Celebrating design, specification and product innovation
GEZE UK is taking part in 100@London – one of the unique International Networking Event and Dinner series.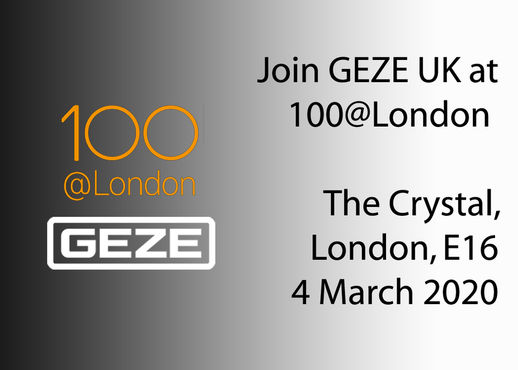 Join GEZE UK at 100@London
Taking place at The Crystal on Wednesday 4 March, 100@London is designed for architects, developers and housebuilders to quickly and effectively meet innovative suppliers and find solutions within the architectural and built environments. The free-to-attend event begins at 6.30 and includes exclusive face to face meetings, and presentations by leading industry figures, followed by a networking drinks reception and a gourmet dinner.
At 100@London the speakers are Ewald Van der Straeten of Bradley Van der Straeten and presenter of ITV 'Love Your Home & Garden' and Duncan Baker-Brown, Technology & Practices Lead and Director of BBM Sustainable Design.
We introduce our latest products
As the UK's only company to offer both door and window automation GEZE's experts will be on hand to offer advice and inspiration on the GEZE range and will introduce our latest products Slimdrive SL NT PAS 24, an automatic door system that meets the demands of the PAS 24 standard; the PACE range of pedestrian traffic control and ECdrive T2 GCprofile Therm that offers a thermally separated profile system
GEZE solutions turn buildings into "Smart Buildings". As a system provider we combine safety systems and drive technology to create innovative, networked and modular solutions: everything from a single source. With our new interface modules, GEZE products can also be integrated into the widely used communication standards of home and building system technology.
To book a place 100@London
Additional information:
100@London takes place at The Crystal, 1 Siemens Brothers Way, London, E16 1GB
on Wednesday 4th March 2020