Heritage hotel is worthy winner
The largest hospitality project ever undertaken in Ireland has scooped a prestigious 'Winner of Winners' award sponsored by GEZE UK.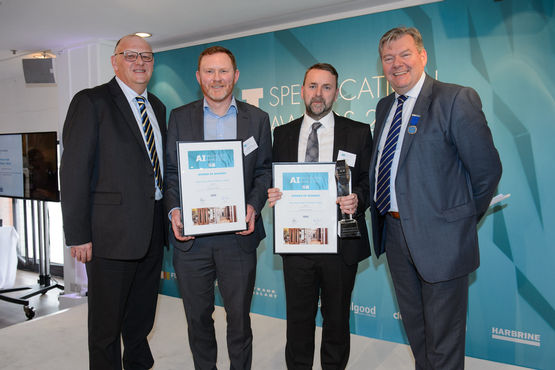 Andy Howland, GEZE UK, Michael Rooney, Mooney Architectural, Richard Lewis, Carrson International and David Stacey, GAI President
Adare Manor, a neo Gothic 'architectural masterpiece', in County Limerick, took the top category at the AI Specification Awards 2019 for ReardonSmith Architects, Carrson International and Mooney Architectural. Local architect, Michael Healy, also worked on the project. The five-star resort which sits within an 840-acre estate incorporates a new five-storey wing which sits alongside the original 19th Century manor.
Its architectural ironmongery was more than just a finishing touch, Sun Valley Bronze hardware was specified by Carrson to mirror the "passion for quality craftsmanship" which was integral to the design standard. GEZE UK also provided more than 200 closers for the project – including the TS 2000 NV and TS 4000 E overhead closers and the Boxer integrated closer – all completed in a bronze finish to compliment the other ironmongery fittings that were used.
GEZE UK sales and marketing director, Andy Howland, was at the glittering event at the OXO2 in London to present the award.
"Adare Manor is a worthy winner. It is a scheme which incorporates several new buildings as well as extensions and renovations that have breathed new life into an historic edifice which in itself, would have presented many challenges.
It was an added bonus to know that GEZE played a part in its redevelopment with products from our range of closers which contributed to the quality finish that all those managing the project were keen to instil.
Andy Howland, GEZE UK sales and marketing director
Said Michael Rooney, Technical Manager of Mooney Architectural: "This was without doubt an exciting and challenging project for all involved at Mooney AI to work on. Meeting the project requirements on quality and service required a lot of expertise from everyone in the Mooney/Carrson Team and also that of our suppliers.
Every element of hardware was carefully chosen to insure it met the projects requirement for excellence. When deciding which door closers to use GEZE was an obvious choice. GEZE UK provided us with the quality product we knew they would but also went the extra mile to provide the special finishes we required.
Michael Rooney, Technical Manager of Mooney Architectural
The Winner of Winners Award, sponsored by GEZE UK, is selected by a panel of judges from the winners of the individual category awards. These include: Commercial and Hospitality, Public Health and Education, Residential and International. A new award for Product Design and Innovation was introduced this year.
Here you can see a video presentation on the Winner of Winners project