The new town hall in Leonberg: Accessible planning and building with GEZE
Between the historic old town and the 'New Town Centre' a spacious new 9,900 square metre building, open on three sides, has been built for the town's inhabitants and the more than 200 employees of the town council.
An urban showpiece for a charming city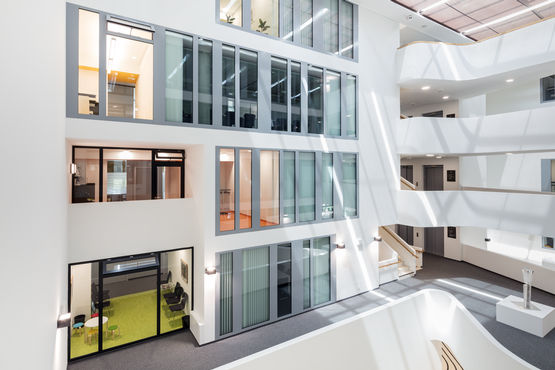 © Jürgen Pollak / GEZE GmbH
In a park-like landscape with a promenade garden, the new town hall is an urban showpiece for an attractive town with vibrant traditions and a great quality of life. To provide the best possible service for citizens in a light, open atmosphere, the administration and functional areas have been brought together in a modern town hall with a clean, simple design. Internal routes are now shorter and simpler, with full accessibility for everyone. The building provides increased building security and a sustainable energy strategy.
The centrepiece of the six-storey partially circular building complex is the atrium with itslarge glass roof. The ground floor accommodates the central foyer with the reception area and information point, the council chamber that can be divided into smaller units, and rooms for council political groups as well as a cafeteria. This leads up to the gallery-style upper stories with the points of contact for citizens as well as the individual offices.
Comprehensive GEZE service: 'Accessible' design
Access for all is standard as a matter of course in modern public buildings. A building must in principle be easy to access and use without other people's help. The GEZE project experts supported the construction project right from the planning phase, contributing their long and comprehensive experience of constructing accessible buildings. One particular service they provided was the the design for delivering all the measures required to ensure barrier-free use of the building, as well as major planning support to Leonberg council's construction representatives, the architects (Schaller), and the general contractor, Wolff & Müller.