PAS with Flying Colours
A 'whole door system' which combines secure locking with failsafe emergency evacuation features has been introduced by GEZE UK to meet the rigorous PAS 24 standard.The Slimdrive SL NT PAS 24 System achieves outstanding security – one of the best on the market, whilst still meeting ever-greater demands of building requirements.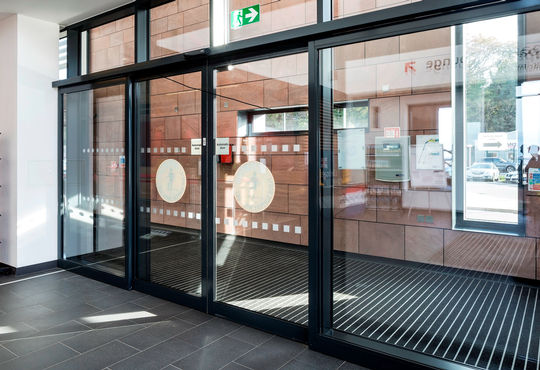 GEZE Slimdrive SL NT PAS
The system enables 24-hour access control and has been designed and tested for continuous use. With GEZE's unique, robust locking system that is hidden from view – the Slimdrive SL NT PAS 24 System makes it even harder for opportunist burglars to identify points of access.
GEZE's proven Slimdrive SL NT technology, together with the enhanced security testing required to achieve PAS 24 accreditation, adds up to the perfect entrance system with no compromises - security, accessibility, access control and great aesthetics.
Under PAS 24 a series of tests are performed including manual attack, in which the test engineer uses a range of tools anywhere on the door over a 15-minute period, impact testing of both 'soft body' and 'hard body' objects, and force testing in which loads are applied for up to 5 minutes. The door must withstand all of the tests to pass and achieve PAS 24 certification.These security enhancements are fast becoming key features for buildings where security with escape routes are a high priority: such as hospitals, airports, train stations and banks.
The system uses GEZE's proven Slimdrive SL NT automatic sliding operator. At just seven centimetres it is the slimmest on the market enabling it to be almost invisibly integrated into the façade. It can move leaf weights up to 125kg and is virtually silent in operation. GEZE UK worked with Jack Aluminium Systems, one of the UK's leading aluminium glazing systems companies, to develop the new system for automatic sliding doors.
The PAS (Product Assessment Specification) 24 test standard was introduced by the British Standard Institute (BSI) in collaboration with industry stakeholders and Secured By Design (SBD). A 2016 revision incorporated additional doorset and window types including non-domestic ranges and changes to some test methods and criteria.
This is a landmark system in the fight against crime. It incorporates enhanced security features without compromising on the functionality and aesthetic benefits for which our products have become known.
Kaz Spiewakowski, managing director of GEZE UK
Jeff Pearson, sales director of Jack Aluminium Systems added: "It has been a honour to work with GEZE UK to develop this system which combines safety and security in line with the PAS 24 standard. It will no doubt prove to be of real practical benefit within a variety of publically accessed buildings bringing with it peace of mind to those who live and work in the places where it is installed."