Case studies
Accessibility and safety thanks to GEZE automatic door drives at the Fux Campagna residential home
Founded in 1995, the Fux Campagna residential home in Visp in the Swiss canton of Valais offers accommodation and a place of work for people aged 18 and over with severe and multiple physical disabilities. Offering accommodation for 21 people and employment for 26, Fux Campagna has always been full to capacity in recent years. Although demand was high, it was unable to accommodate any others. The solution? An extension based on designs drawn up by Albrecht Architekten AG, comprising 15 additional residential places and 17 new employment places, which was inaugurated in May 2018.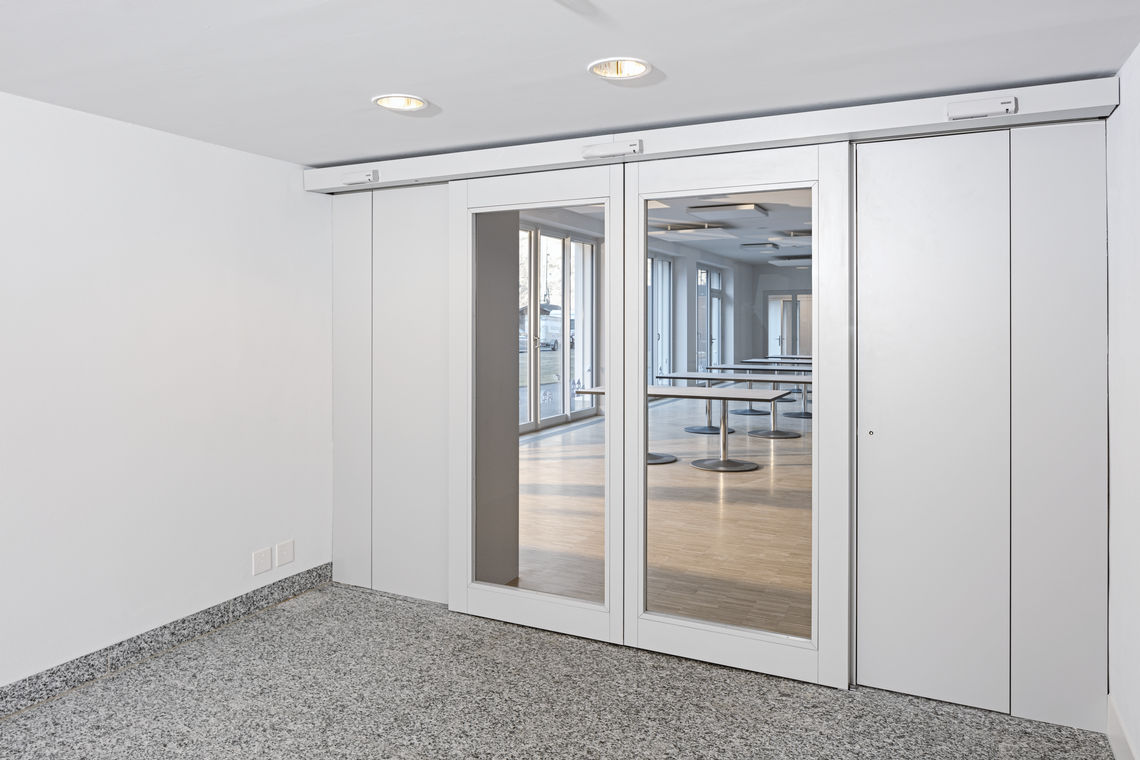 Full power and a discreet design: GEZE Slimdrive ensures accessibility on escape and rescue routes in the new extension to the Fux Campagna residential home. © Lorenz Frey / GEZE GmbH
For the institution's residents and employees, accessible living throughout the building is essential. Ultimately, they need to be able to move around it as freely and independently as possible. At the same time, requirements concerning fire protection and escape and rescue routes must also be observed. That's why GEZE automatic door drives for swing doors and sliding doors were installed in the new build and in parts of the existing building – the perfect solutions for accessibility and comfort.
Accessible living with the utmost convenience in the Fux Campagna residential home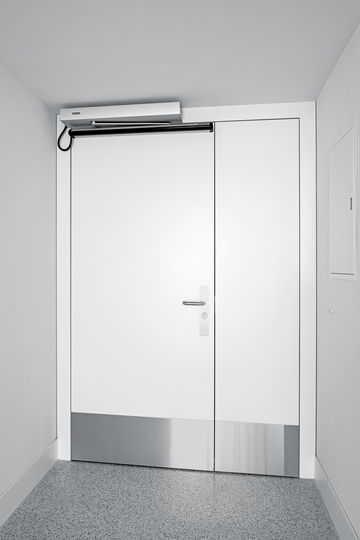 The fully automatic drive proves its strength and opens even large, heavy doors with leaf weights of up to 600 kg with a door width of 930 mm reliably and safely. © Lorenz Frey / GEZE GmbH
Due to their impairments and physical disabilities, the residents of Fux Campagna are often unable to open and close doors manually in order to move around the building as independently as possible, without the help of others. However, key pillars of the Fux Campagna philosophy include affording its residents the greatest possible individuality, independence and privacy.
In light of this, the residential home (like many other establishments in the health and social care sector) opted to install automatic door drives for swing doors and sliding doors. They are the perfect solution for accessible living and afford users convenient access while maintaining the highest safety standards. In addition, in the event of fire or other danger, they ensure that residents and staff can escape outdoors or to safe areas without assistance.
Solutions supplied by GEZE can meet these high standards of safety and user friendliness and, thanks to their discreet and aesthetic design, blend seamlessly into the building's modern architecture. And, of course, they fulfil all guidelines for accessible building design set down in DIN standards.
The installed GEZE products met our expectations in full. We are delighted with the installations in the new-build section in particular. The retrofitting in the existing building was a significant challenge and the installation work required joiners, electricians and locksmiths to adopt an interdisciplinary approach. It involved a high degree of complexity – and it is quite understandable that some of the installed solutions need to be reconfigured or adjusted. We can always count on outstanding service from GEZE for that.
Donat Jeiziner, Direktor Fux Campagna
Automatic sliding doors: discreet and reliable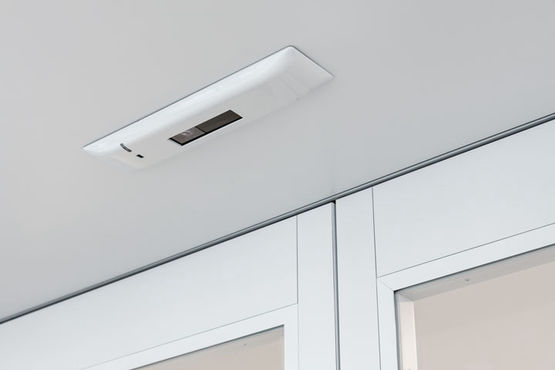 GEZE Slimdrive SL NT-FR © Frey Photography / GEZE GmbH
Large numbers of residents, employees and visitors use the glass sliding doors of the canteen and kitchen in the Fux Campagna residential home every day. These facilities are the home's social hub; a central place for people to share meals and enjoy each other's company. At the same time, the entrances and exits serve as escape and rescue routes. As a result, door systems installed in this area not only need to be highly functional and reliable, they also have to comply with DIN standards and European fire regulations. The door control systems also had to be integrated as inconspicuously as possible in the building's modern design.
The decision was therefore taken to install the GEZE Slimdrive SL NT-FR – the automatic linear sliding door system for escape and rescue routes. Specially designed to meet the demands of internal and external doors subject to high use, the drive system impresses at a height of only 7 centimetres and can be integrated inconspicuously in the façade. To guarantee safety along escape and rescue routes, the controls and the overall system also feature a redundant drive design.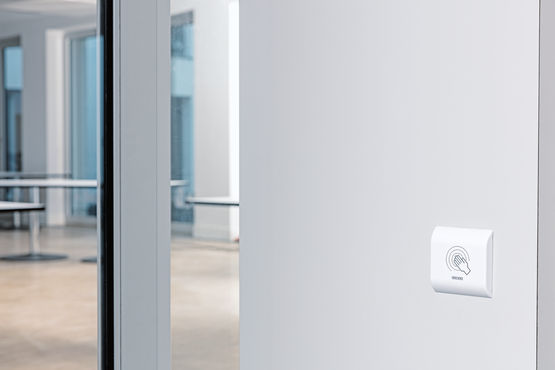 Non-contact proximity switches have been installed on walls beside GEZE Slimdrive SL NT-FR door systems. The switches allow people to open doors without making direct physical contact © Lorenz Frey / GEZE GmbH
Ideal for health and social care: non-contact switches
Non-contact proximity switches have been installed on walls beside the doors. These allow the doors to be opened without the need to press a button: approaching the button is enough to activate the automatic opening system.
Therefore, when a resident approaches the door, they do not need to touch the switch directly. Instead, simply approaching the switch is sufficient. This offers particular benefits for people on crutches or in a wheelchair who want to activate the switch. The switch detects people and objects in a detection area of 10 to 50 centimetres, which can be configured as required.
Proximity switches offer significant benefits not only in relation to accessibility but also in terms of hygiene, as they avoid unnecessary physical contact. This avoids the transmission of germs on hands – ideal for health and social care establishments.
Discover other practical activation devices and sensor systems
Accessibility and fire protection combined thanks to hold-open system and automatic swing door drive
Fire protection and accessibility – two topics that obviously play an important role for the Fux Campagna residential home. But how can the two be combined? After all, fire and smoke protection doors have to be closed at all times, right? In some cases, yes – but not always. If fire protection doors are equipped with hold-open systems, they can be left open. The hold-open system keeps the doors open and closes them automatically and securely in case of emergency. Sensor strips and remote-control systems installed in the residential home further improve the building's accessibility and ease of access for its residents and staff.
GEZE Boxer E-ISM puts fire protection in focus
The double-leaf fire protection doors in the Fux Campagna residential home have been equipped with the GEZE Boxer E-ISM door closer system. The electrical hold-open system ensures that doors are kept open and are automatically released only in case of fire. The predefined closing sequence ensures that the leaves close in the right order. These qualities not only represent preventive fire protection measures but also make fire protection doors accessible without impacting on safety.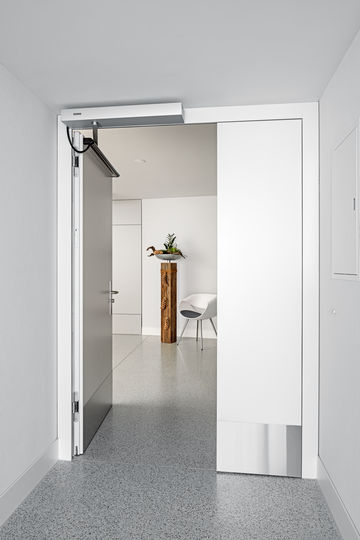 In the Fux Campagna residential home, single-leaf fire and smoke protection doors were fitted with electromechanical Powerturn drives supplied by GEZE. © Lorenz Frey / GEZE GmbH
Accessibility ensured by the GEZE Powerturn F
Single-leaf fire and smoke protection doors throughout the extension to the Fux Campagna residential home and in the existing building have been fitted with Powerturn drives supplied by GEZE. Thanks to a sensor strip and remote control, this smart solution makes the doors accessible for all residents and staff. The drive opens doors extremely quietly, meaning that residents and staff are not disturbed by noisy drive systems. The Smart swing function also makes it easy to open the doors manually. As well as opening and closing automatically, fire protection doors can also be held open. In the event of fire, a fire detection system deactivates the automatic open/close function or hold-open device. A circuit breaker interrupts the power supply and the drive system retains the normal door-closer function.
Our automatic door systems …
The benefits of GEZE automatic door systems at a glance
… ensure that doors are accessible and convenient for all users.
… are a hygienic solution, especially for the health and social care sector, as they avoid the transmission of germs from hands.
… are a safe and efficient solution, particularly for high-traffic doors.
… meet the strictest safety standards in accordance with DIN EN 16005 and DIN 18650.
… are suitable for fire protection doors and close automatically in case of emergency following a signal from a smoke detector, thereby securing the fire section.
At a glance: GEZE solutions in the Fux Campagna residential home
GEZE Slimdrive SL-NT-FR linear sliding door system for escape and rescue routes with proximity switch
Boxer E-ISM 3-6 integrated door closer system with closing sequence control and electrical hold-open device
Powerturn F electromechanical swing door drive for single-leaf fire and smoke protection doors