Services throughout the building life cycle – we leave our customers free to focus on what matters most
GEZE's mission is to provide support for buildings throughout their entire life cycle. From design and planning to installation and assembly, including building services, maintenance, and renovation – we provide consistent support to our customers. In doing so, we optimally support all subsections involved and connect interfaces – always with the goal of creating liveable buildings. Günther Weizenhöfer, Head of the Pre Sales Development team at GEZE, our Sales Manager Christian Schulze Dieckhoff and the Managing Director of GEZE Service GmbH, Katrin Höfer, will discuss how this works, and what the key areas of focus area.
"Connecting Expertise – Building Solutions" – that is GEZE's mission and performance promise. What does it mean for our customers, concretely?
Christian Schulze Dieckhoff: It means that we do more than just supply our customers with outstanding GEZE products. We want to truly understand our customers' needs and challenges and solve their problems. We understand ourselves as a comprehensive and holistic service provider. Thanks to our many years of technical and industry expertise, we know what networking means in the project at hand, and what hazards to look out for.
Katrin Höfer: That's exactly right. We want to be able to offer services flexibly and reliably at all times, and to be a partner that our customers can fully rely on. We meet our clients halfway and help them carry out and supervise their building projects with technical expertise. This support runs through every phase of the building life cycle, and is always focused on the specific needs of the building's use, and users.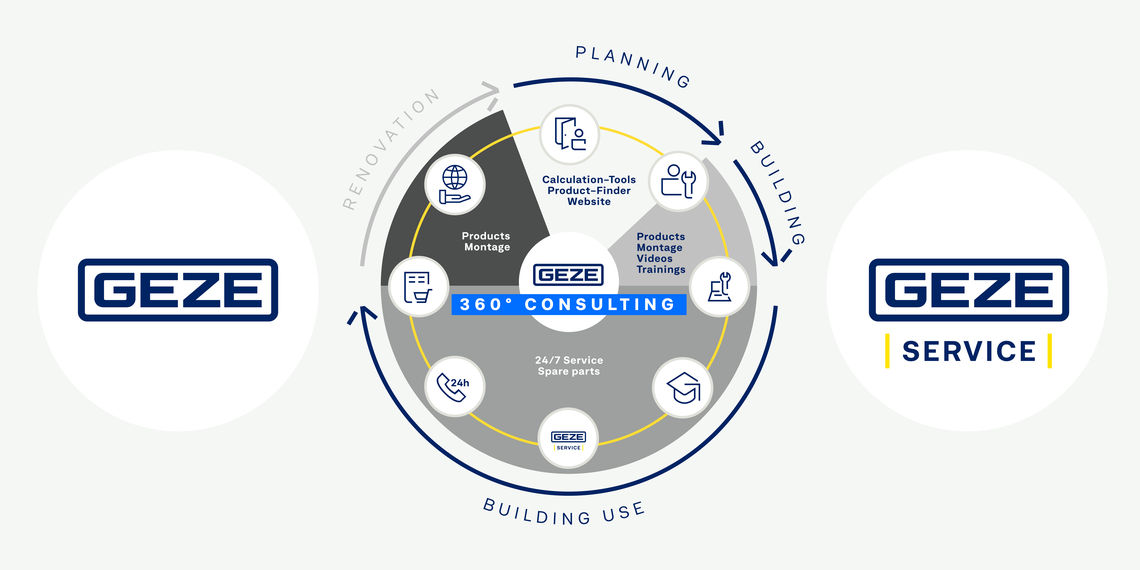 In building planning, during construction, during building use, but also during renovation - our services support you at all times.
Let's start with planning. What can GEZE customers expect to receive in terms of planning, Mr Weizenhöfer?
Günther Weizenhöfer: Architects are our primary contact persons in this area. We provide them comprehensive support in technical planning for doors and windows. That support is available no matter whether it is a new building or a renovation of an existing building. We ask the right questions and work with the architects to find out what requirements the elements must fulfil. Planning is the alpha and the omega if we want to avoid problems later on the construction site. Door planning in particular can be highly complex, since requirements can often be contradictory, and numerous doors with different functions are installed in the same building.
We don't want to just sell any product to our customers; we want to create the right GEZE solution for the specific challenge.
Christian Schulze Dieckhoff, Sales Manager at GEZE
Christian Schulze Dieckhoff: When it comes to building automation – integrating doors and windows into the building management system – proactive planning pays off. Good planning can avoid a wide range of headaches, and above all save costs. In general, digitisation and Smart Building concepts are making building operations simpler and more convenient, however, they make planning more complex and time-consuming. We not only provide support to the sales force and back office with our planning expertise, we also offer the right products for any challenge – and we help our customers, for instance on our website, with plenty of information on planning-related topics, with examples and references and with specific product knowledge pages. Planners can quickly find the right product using our product finder. Of course, we also provide architects access to technical details, tender texts, product specification sheets and much more in the download area. Thanks to our extensive sales network, we are close to our customers and combine industry expertise with technical competence for the highly specific needs of our customers – by professionals, for professionals.
Günther Weizenhöfer: Of course, we also offer tools and software, which experienced planners can use for their own projects. For example, our BIM door objects can be integrated into digital building planning, our interactive door calculator for the Powerturn swing door drive calculates the area of application for the drive, and our WinCalc window calculator helps find the right window drive for the defined requirements. These and other tools are collected on our website and in the customer portal. In specialised architect training sessions, we provide information on current topics like fire protection or accessibility.
We also advise architects on topics like green building, contributing products that help make buildings more sustainable, such as with natural ventilation concepts.
Günther Weizenhöfer, Head of the Pre Sales Development team at GEZE
That sounds like comprehensive support. What happens after planning is complete?
Christian Schulze Dieckhoff: Once you have found the right product, you are ready to begin. Either our customer then uses a system solution, consisting of individual GEZE components, or we create a fully custom solution, which we coordinate directly with the customer and then develop specifically for them. This also allows us to fulfil highly specific requirements.
Katrin Höfer: We support retailers, tradesmen and building owners with a wide range of services: The website (within the product itself, or in the download area provides access to installation instructions, installation drawings and operating instructions at all times, so that customers always have access to all information on our products. In addition, we offer multilingual installation videos to help with the installation of our products. Our service case is another useful tool for simple and successful installation of our products. And, of course, we offer regular training sessions to our installers on installing GEZE products.
And what happens once the building is finished and operating?
Katrin Höfer: Even then, we continue to support our customers – after all, automatic doors or windows are part of a machine, and they need regular maintenance and inspection. With our technology-aided and seamless documentation of maintenance results, we help our customers to plan their annual investment and operating costs. This data also helps us find the most economical time for a replacement. The GEZE Service Portal ensures operators always have an overview of all of their systems, allowing them to immediately evaluate faults, for instance – and transmit them online.
Our regular maintenance ensures functionality and maintains the value of systems – regardless of manufacturer.
Kathrin Höfer, Managing Director of GEZE Service GmbH
Christian Schulze Dieckhoff: If unexpected problems do come up with the solutions while they are in operation, and our troubleshooting FAQs do not help resolve them, then our GEZE Service is available 24/7. An online fault form or our Hotline can be used to report faults day or night. These will then be corrected promptly after our service technicians read out the errors. In the future, more of this work will also be handled via remote maintenance, so that errors can be read out online and technicians can provide tips to correct them.uslesen. In Zukunft geht das auch immer mehr über Fernwartung, so dass Fehler online ausgelesen werden können und Tipps zur Behebung gegeben werden.
Katrin Höfer: Last but not least, our GEZE Service Contracts offer different kinds of custom-tailored solution concepts for every kind of building. And if a customer needs spare parts, they can order them easily via the GEZE Portal with overnight service available on request.
Thank you very much for this interesting and informative discussion!