Revolving doors – the right choice for your door planning?
Whether a revolving door, a swing doors or a sliding door: when there are structural needs to fulfil, each type of door has specific advantages and disadvantages. Is a revolving door the right choice for your intended use, or do you need another type of door? We support you in finding the right door solution.
Quick check comparison of different revolving doors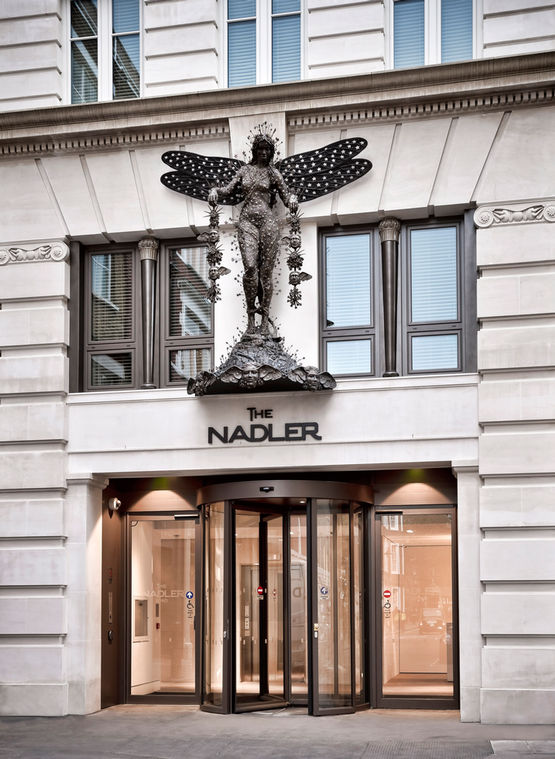 Reliable and perfectly matched to the hotel ambiance: GEZE TSA 325 NT manual revolving door with Slimdrive EMD-F in The Nadler Hotel, London © Michael Molloy / GEZE GmbH
Fire protection, accessibility or access frequency – door functions are just as diverse as the demands placed on the doors themselves. During every project, planners and architects are faced with the responsibility of choosing the door type with the best combination of capabilities and functions from this complex range of options.
Manual revolving doors vs. automatic revolving doors
Manual revolving doors provide easy and quiet accessibility – and serve as an elegant entrance to the building. They are best suited for narrow passage widths with a smaller number of visitors. They can also handle higher access frequencies, depending on the design.
Automatic variants offer excellent convenience with high access frequency. Different modes of operation and settings allow automatic revolving doors to be used by everyone. The non-contact functionality of the door is also an important hygiene factor. In addition, the automatic variants offer automatic error detection, and can be integrated into the building automation system.
The advantages of a revolving door
In general, revolving doors are primarily used in building entrance areas. All revolving doors offer outstanding protection against draughts, noise, dust and dirt, thus helping to improve energy efficiency in buildings. However, this type of door is suitable only as a sole escape and rescue route in limited instances. The 'break-out' fitting variant with folding leaves is needed in this case. Alternatively, for instance, you could plan a swing door in addition to your revolving door. By doing so, you would also create barrier-free access not available from revolving doors alone.
Revolving doors – a suitable solution for many industries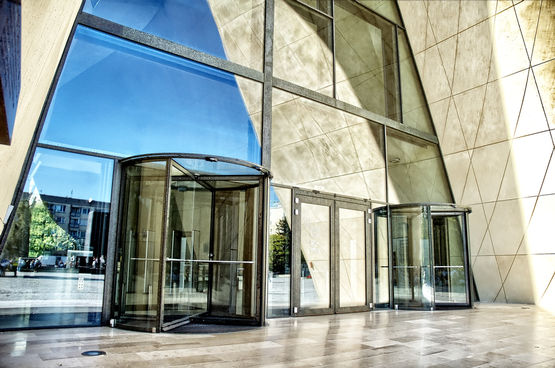 Elegant design and effective protection against the weather: GEZE TSA 325 GG all-glass manual revolving door in the Museum of the History of Polish Jews, Warsaw © Lukasz Janicki / GEZE GmbH
Office buildings, shopping centres, hospitals and hotels – manual and automatic revolving doors are used in a wide range of different industries. Of course, every industry has specific demands – but issues like energy-efficiency or weather protection are important to door solutions for external applications in all kinds of buildings. Due to their unique design, revolving doors are never open, always keeping indoor and outdoor climates separate. This improves the energy efficiency of buildings and generates noticeable cost advantages. In addition, they help create a comfortable indoor climate in entrance areas, which can then function as fully usable spaces. Another advantage of revolving doors is that they accelerate access to the building, ensuring improved safety and comfort in public buildings such as airports or shopping centres.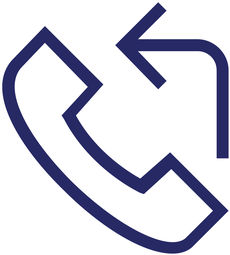 Have revolving doors always met your needs? Take a look at the following table. It allows you to directly compare the advantages and disadvantages of revolving, swing and sliding doors in detail. Our GEZE industry experts are also happy to advise you personally.
Central demands and functions of the three door types
REVOLVING DOOR
SWING DOOR
SLIDING DOOR

Fire protection

No

depending on the product selection, see here.

Sliding door fittings: No

Automatic sliding doors: Yes

Accessibility

No
Yes, but observe usage limits with exceptions.

Sliding door fittings: optional

Automatic sliding doors: Yes

Escape route

Manuell: No

Automatic: Only for escape and rescue routes (not smoke protection): Yes, only with the 'break-out' fitting variant with folding leaves

Yes, possible with most swing doors Exceptions are listed here.

Sliding door fittings: No

Automatic sliding doors: Yes, if approved as escape and rescue routes

Inner/outer door
Both

Interior or façade doors are possible, depending on the swing door type. Further information is available here:

For hold-open systems: Various demands and functions that do not apply according to the table can be implemented on a building-specific basis. Please contact us.

Sliding door fittings: for internal applications

Automatic sliding doors: Both, primarily external applications

Walk-in frequency

Manuell: Low to high

Automatic: High

High, exceptions are listed here.

Sliding door fittings: Low/medium

Automatic sliding doors: High

Suitable door systems
3 and 4-leaf door systems

Single and double leaf door systems are possible for most swing door types, right and left single-action door. Exceptions are listed here.

Single and multi-leaf sliding doors
Leaf material wood/glass/metal
Glass/ aluminium

Wood and glass for most swing door types. Exceptions are listed here.

Wood + glass
Find the right revolving door for your project
Integrated door planning with BIM
Doors are one of the most complex components in the building plan. We offer extensive advice on the topic of BIM and free BIM door objects. These allow you to load GEZE revolving doors in a variety of CAD systems, for instance, and individually configure them. That makes them a valuable tool for your integrated building plan.