Topics
Automatic doors - simple, helpful and safe
It's an expectation in many buildings: doors open automatically and then close again. In supermarkets, hotels and car dealerships, and also in public offices and hospitals, these doors serve as inviting and accessible entrances. They can also be retrofitted for a reasonable cost.
Automatic doors enable convenient access for all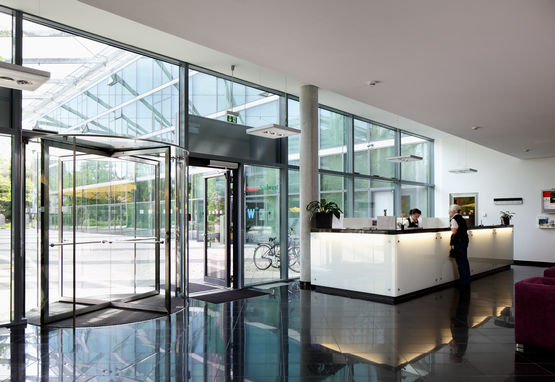 Automatic door systems are very popular in hotels.
Pressing on door handles or rotating door knobs, pulling or pushing doors and closing doors again after passing through: It can all be annoying at times. People often forget to close doors after themselves, in particular. And for some people, opening a door and then closing it again is impossible, wheelchair users, children, older people or the disabled, for example. Automatic doors grant everyone convenient access to buildings, something that is increasingly appreciated, and even expected.
Automatic doors are preferred in some sectors
Automatic doors already permit modern barrier-free access, exit and passage in many buildings. They are particularly suitable for buildings with a high volume of footfall. They are now considered virtually standard in the following sectors:
Types of automatic doors
Automatic door systems are available for all sorts of doors, whether large or small, heavy or light. What's more, almost any conceivable design is possible: full glass, framed, wooden, aluminium or steel construction are all options.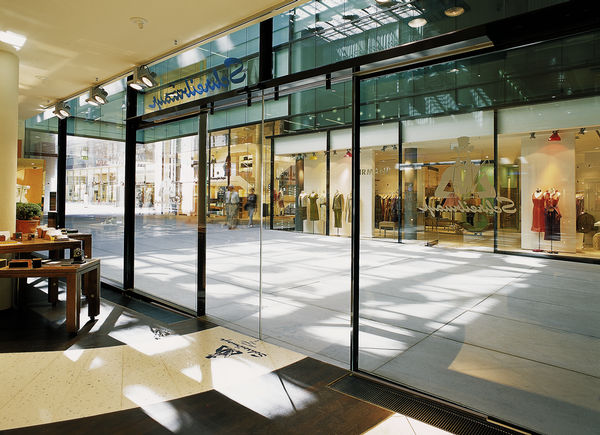 Automatic sliding doors
Automatic sliding doors can be installed in numerous designs: in addition to linear sliding doors, options include curved sliding door systems, corner sliding doors and inclined sliding doors.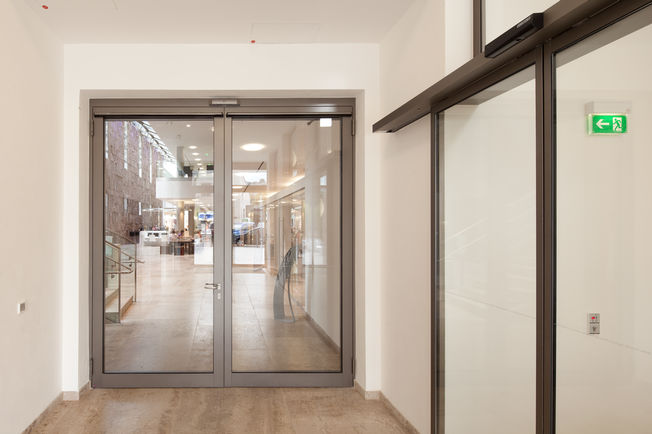 Automatic swing doors
Automatic swing doors are a simple solution for barrier-free access. Existing swing doors can be retrofitted with a drive and the necessary safety devices. © Dirk Wilhelmy / GEZE GmbH

Automatic revolving doors
Revolving doors are an effective way to separate inside and outside areas when energy efficiency is key. They manage heavy public footfall and offer creative freedom.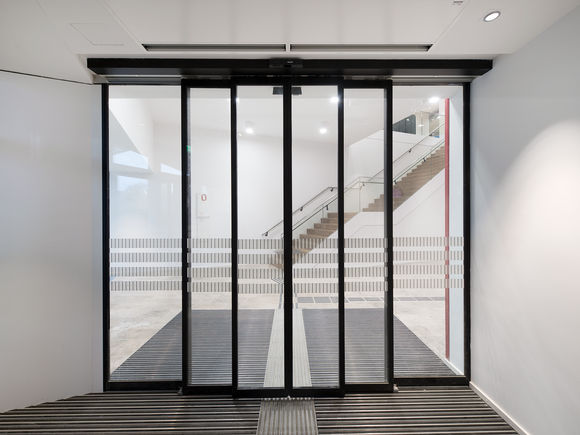 Space-saving doors
Space-saving door systems, for example automatic folding leaf doors or telescopic sliding doors, can be used in locations where installing standard automatic door systems is not possible. © Sigrid Rauchdobler / GEZE GmbH
Door automation elements
Special sliding fitting systems create doors which move automatically. These types of automatic sliding fitting systems consist of several components:
Activation device: This is a detector which registers an open command and transfers it to the drive control/control unit. There are manual detectors, such as touch pads, remote controls, buttons and switches, and automatic detectors, such as movement detectors, sensors, photoelectric barriers and digital barriers. For reasons of convenience, several different types of detectors are often fitted to an automatic door.
Control unit: This is the brain of the system, which usually includes timer switches, settings for opening speeds, angles and hold-open time, and if applicable additional safety technology such as access controls, video monitoring, etc.
Drive: The door drive uses motor force to open the door. The drive pulls the door open and then closes it again.
Sensor strips: Sensor strips (presence detectors) monitor the path of the door leaves and the closing edges. They promptly stop the door if there is a threat of collision or entrapment involving a person or object. Before using safety sensors, please consult the fire door manufacturer as to whether the sensors are approved.
The highest standards for automatic doors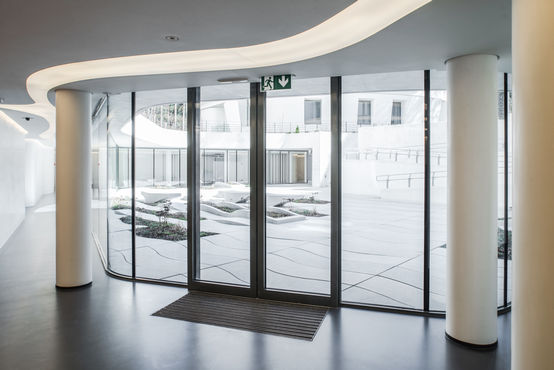 An automatic door in a residential building © Aleksandrs Kendenkovs / GEZE GmbH
The safety standard for automatic door systems in Germany is the highest in the world. Since these components have electric drives, they are considered to e machines as defined by the Machinery Directive. They are therefore subject to special safety demands. The European standard EN 16005 is implemented by DIN EN 16005 in Germany and sets out the design requirements and test methods applied to ensure the safe use of automatic doors. Another legally applicable standard in Germany is DIN 18650, which remains compulsory as an older and more stringent standard.
Protective devices
The operator is legally obliged to secure the opening and closing movements of automatic doors, and the associated sources of risk. In some cases, monitoring of the main closing edges is sufficient. In specific circumstances (for example buildings used predominantly by older people, individuals with restricted mobility, or small children), the whole door area must be secured. Many older door systems can be retrofitted with a range of safety devices.
The key elements of DIN EN 16005 and DIN 18650 require hazardous areas to be protected by way of:
Using sensors to avoid crushing, shearing and impact during opening and closing
Safe distances to prevent crushing and being drawn in
Limitation of the leaf forces
Requirement for a high level of security in door control and "Performance Level c" sensors for standard doors or "performance level d" for escape and rescue routes (in accordance with EN ISO 13849-1)
Maintenance and inspection
In accordance with DIN EN 16005, DIN 18650 and the Technical Rules for Workplaces - Door and Gates (ASR A1.7), automatic doors are subject to a mandatory technical safety inspection by an expert. This applies to initial commissioning, and then a minimum of once per annum, but also as needed, for example if the building function changes.
In addition to this inspection, the maintenance requirement also includes mandatory regular maintenance of the automatic/power-operated doors. These intervals depend on the installation manufacturer's specifications. Maintenance twice a year is recommended for automatic doors in escape and rescue routes.
Fire protection and clear escape routes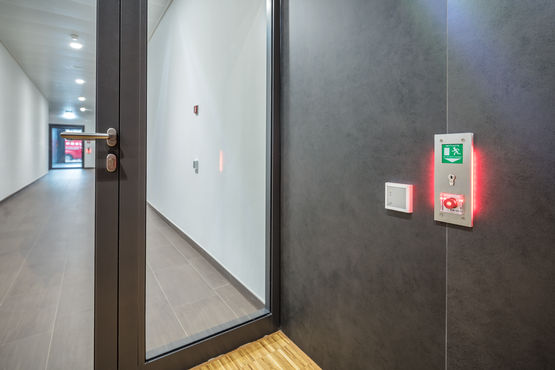 Automatic door systems within escape and rescue routes
Automatic doors offer safety thanks to sophisticated systems and sensors - even in an emergency. Doors which are used as fire protection doors must close safely in the event of a fire, or if smoke develops. In an emergency, they automatically close via the impulse from a smoke detector and secure the fire section or prevent the spread of smoke. This can also be triggered by a building system, such as smoke detection central units.
If a passage is identified as an escape and rescue route, automatic doors must be equipped with a fail-safe opening impulse generator (detector). This ensures that the door opens within a few seconds of being triggered, or after a loss of power, so that the doors can be used as safe escape and rescue routes in an emergency.
Central control and monitoring through networking
Automatic door installations are often networked with building systems such as the rescue route system, access control system, building technology system and RWA control units. This enables central control and monitoring of all of these systems, so increasing efficiency of the facility management.
Accessible construction with automatic doors
The goal of accessible construction is to plan and construct buildings and housing such that they can be used by anyone without help and without limitation. Access for all is included in building regulations in Germany and is a criterion for public construction projects.
It must also be possible to open and close doors with a low amount of energy. Otherwise, automatic door systems are needed.
DIN 18040-1 Publicly Accessible Buildings
Access for all is also becoming more popular in private homes. The number of older people in society is significantly increasing, and many people can and want to live an independent life into old age.
Access for all also offers numerous advantages in other stages of life. It helps people suffering the temporary consequences of accidents, people with prams, baggage or shopping bags, and families with small children. In these situations, i.e. when opening and closing doors manually is inconvenient, difficult or even impossible, automatic door solutions offer a high level of user convenience.
On the safe side with automatic doors by GEZE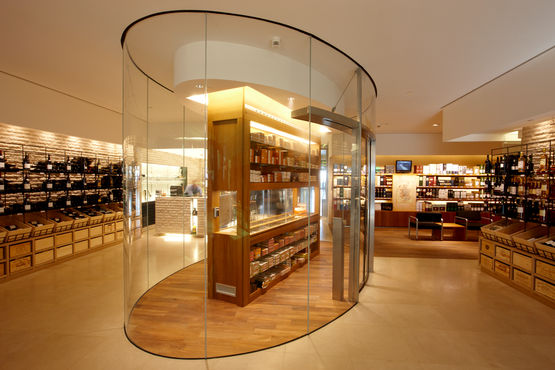 There are many variants of automatic sliding doors.
Would you like to welcome your visitors with a very special entrance solution? GEZE offers tailor-made entrance areas with revolving, sliding and automatic swing doors, along with all types of special solution, including machine safety doors. The range also includes activation devices which automatically manage and secure doors.
Door drives from GEZE automatically, safely and comfortably move automatic door systems. They can be flexibly adapted to various user needs. They also communicate with other devices, such as for example fire alarm systems, and take over control tasks in the building system.
GEZE has many years of experience with the stringent German safety standard in accordance with DIN 18650. All GEZE automatic door systems and sensor strips meet the EN 16005 standard.
Telescopic sliding doors, folding doors, curved sliding doors, corner sliding doors, inclined sliding doors, smoke-proof sliding doors, break-out sliding doors, linear sliding doors - whatever the space and the needs, GEZE offers the right solution for every door.
Automatic sliding doors reliably and safely open in all situations. Automatic sliding doors are also used to create accessible buildings, and as escape route doors.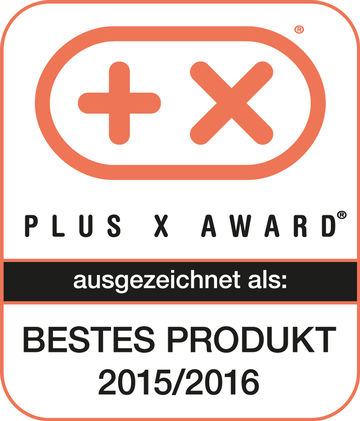 Plus X Award
Powerturn
It is a perfect example of "made in Germany" Universal Design: the Powerturn automatic swing door drive also reliably and safely opens large, heavy doors with a leaf weight of up to 600 kg. This powerful GEZE product is also the safe and reliable solution for fire protection doors. At the same time, the low overall height of the swing door drive fits in perfectly with every design. Its unique smart swing function also facilitates effortless manual passage through the door – for anyone and at all times. As a true team player, this powerful GEZE model can be integrated flexibly in a wide range of different systems: it is a perfect fit across the product range.
GEZE offers complete solutions designed to meet individual needs. For example, each revolving door is a solution tailored to the specific client. GEZE enables almost unlimited design freedom with various materials and colours. The high insulation effects to protect against draughts, weather and noise mean that revolving doors very effectively separate the indoor and outdoor climates and help to save energy. Revolving doors made by GEZE excite architects, planners and processors. From hotels, shopping centres and banks through to airports and museums, landmark buildings across the world are fitted with door solutions from GEZE.
Increased protection against burglary with GEZE automatic doors
Door systems from GEZE make life difficult for burglar because GEZE also supplies sliding door systems and revolving door systems with burglar resistance certified to resistance class 2. These provide the burglar-resistant function RC2 in the NIGHT operating mode. In "NIGHT" operating mode, the door does not fulfil any escape route demands. It is therefore important to ensure that there is nobody in the building or that sufficient other escape routes are available.
For private homes: GEZE front door pack
The GEZE front door pack turns front doors on individual homes and apartment blocks into automatic, barrier-free access solutions. The flexible selection of components allows for a customised front door pack, e.g. unlocking the door using 'fingerprint' access control. If desired, this type of front door can also be integrated into an existing Smart Home system.
The right solution for every requirement
Since automatic doors are often located in the entrance area of a building, they are something architects pay a great deal of attention to. This is because the entrance areas act as the "business cards" of the building - creating an important first impression.
Automatic sliding door systems from GEZE are modern, space-saving and elegant.
Automatic revolving doors are used in the entrance areas for large and prestigious buildings. They combine architectural beauty with the greatest of functionality.
The options in the Slimdrive drive range have a construction height of just seven centimetres and blend perfectly into any building architecture as well as offering a wide range of application options. The very low construction height enables almost invisible integration into the façade. The Powerdrive is a real power pack and is capable of moving heavy doors conveniently and safely.
For the reliable locking and unlocking of automatic sliding door systems, GEZE offers different locking solutions depending on the safety demands and operating convenience.
Simple installation, even for retrofitting
Automatic swing door systems are characterised by their simple installation and they can also be retrofitted. Activation devices manage the automatic door systems; sensor strips secure them.
The technology behind this is not always easy for building technicians, because it requires them to master numerous parameters. GEZE ServiceTools make handling automatic door systems easier for them, allowing settings to be adjusted more quickly and simply. For example, cable plans help in installation planning for the door, and our ST 220 service terminal can be used to easily set the door parameters. In addition to installation instructions, our installation videos also help to install door systems.
Go to the Powerturn installation video
Go to the Powerturn IS-mechanism installation video
GEZE is a single source supplier for complete solutions designed to meet individual needs.
Safety check, maintenance, service tools
Moving elements and drives are subject to a certain amount of wear, and require regular maintenance. The operator must ensure that the door system is in reliable condition at all times. To guarantee the reliability of the door, an annual expert inspection and regular maintenance are necessary. Two inspections per annum are recommended for escape route doors. These take all safety-relevant aspects, correct installation and integration in the building context into account.
The parameters for GEZE automatic sliding, swing and revolving door systems can be set and maintained quickly and easily via a laptop or PC with the GEZEconnects software and fast Bluetooth wireless transmission. The simple read-out of fault messages reduces servicing and maintenance costs. Diagnostic functions display the most important parameters of the door system in real-time. Faults can thus be eliminated in no time at all. All of your door settings can be saved for documentation, adopted for other systems and sent via e-mail. Existing systems can also be configured smoothly for GEZEconnects compatibility.
GEZE Service provides flexible and individual maintenance and service packages and training in this area.
Downloads
You can find informative material on the automatic door systems from GEZE as a PDF for download here.