Sponsorship
GEZE supports the Leonberg City Race
The Leonberg City Race includes different distances for people of all ages, so there's something to suit everyone and all fitness levels. The proceeds benefit charitable institutions and societies in Leonberg. GEZE GmbH is the main sponsor of the Leonberg City Race's longest distance.
A 10 kilometre race for a good cause
As one of the largest companies in the Leonberg region, GEZE GmbH had no hesitation in supporting the Leonberg Citylauf. The company supports the longest race – the 10 kilometre race – as its main sponsor. The varied course includes a section through Leonberg's old town, and with only has a few climbs, it provides perfect conditions for achieving super-fast times. GEZE is also represented each year, with a group of runners from its own staff.
We are delighted to be one of the main sponsors of the City Race. We aim for outstanding performance every day. That's why we sponsor the GEZE 10 kilometre race, to help runners to achieve outstanding performances of their own.
Brigitte Vöster-Alber, Chief Executive Officer of GEZE
GEZE demonstrates its social commitment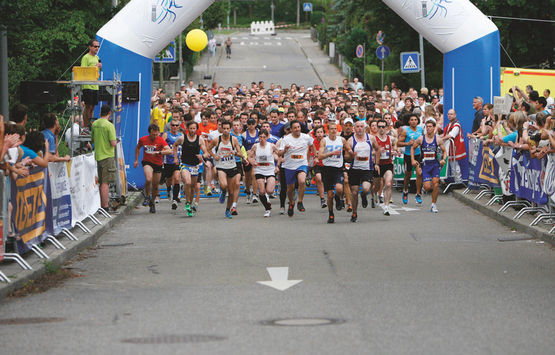 An exciting competition with fast race times in the GEZE 10km race
Social commitment – particularly for society's weakest – has always been a key issue for GEZE. The company's activities include support for local, regional and national sporting events. Historically, GEZE has close sporting links through its past production of ski bindings, which is why the company sponsors local sports clubs and sporting events – ranging from show jumping tournaments to race events.
The proceeds of the Leonberg City Race go towards socio-medical and cultural purposes, or to support educational institutions. Once the amount raised is confirmed, GEZE, together with the organisers of the City Race, decides how the money is to be used.