Barry tops 25 years
As GEZE UK celebrate 35 years in business, one of the company's longest serving members of staff, Area Sales Manager, Barry Topham, celebrates 25 years with the company. In this time, Barry has seen the company grow hugely; back when he started there was just 23 staff and turnover of £3m, today the company employs over 250 people and turnover is over £35m.
Changes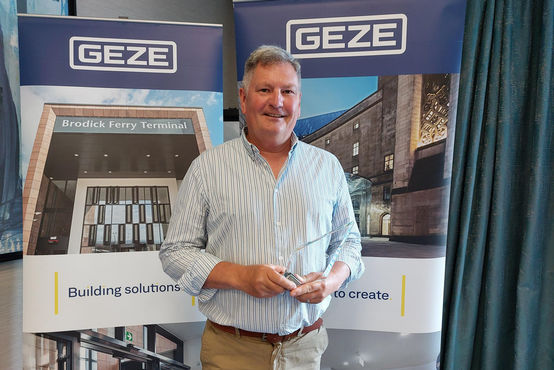 Area Sales Manager, Barry Topham, celebrates 25 years with the company. © GEZE GmbH
Barry has also witnessed many changes in the industry, he says "The growth of automated doors and the windows sector is astounding, yet there have also been negative changes. There has been a deterioration of quality on site, such as the use of chipboard doors, and the influx of low quality, inferior finished products at lowest price is not good - it means the expected product life is far too short. However, the GEZE brand is still recognised in the market place as a reliable, quality supplier of door and window control products – and one of the reasons I have stayed.
Customers
Barry runs his sales area as if it was his own company, his extensive knowledge of the market and the GEZE products enables him to ensure his customers get the advice they need and the best solution for their project.
I have worked with Barry for many years, his knowledge of GEZE and the industry is second to none, he is dedicated and passionate about what he does and is a real asset to the company.
Andy Howland, GEZE UK's Sales and Marketing Director
Previous to joining GEZE Barry worked as an Architectural Ironmonger and was a GEZE customer so he knows the business from both sides. Originally, he was employed at GEZE as a Specification Manager working with architects and planners but as soon as an Area Sales Manager role became available he snapped it up. Barry now covers central England and south Wales.