GEZE UK publishes latest Product Guide
Architects, architectural ironmongers and specifiers will be able to choose the right product for the job thanks to the updated Product Guide and Price List from GEZE UK.
It's all in the detail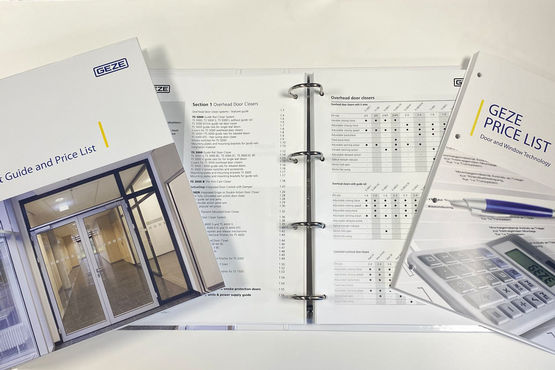 GEZE UK Product Overview and price list with important information about the range of door and window controls
The detailed, illustrated guide is divided into five product sections - overhead door closers; floor mounted door closers; fittings for toughened glass doors; sliding door systems; and window technology – and a comprehensive index to ensure specifiers can quickly find all the information they need.
New for 2023
The guide introduces the F 1200+, a window drive for large and heavy, turn and tilt, bottom hung windows. Also included are GEZE's popular closers which are now available in a matt black finish.
Everything you need in one place
With detailed product information to help specifiers and architectural ironmongers select the most effective product for their needs, this technical guide replaces the contents of GEZE UK's existing stylish binder and is available electronically or as hard copy.
It includes technical drawings, application descriptions and finishes as well as glass preparation information and technical information on a wide variety of solutions for toughened glass.
To request a copy of the product guide, call 01543 443015 or email info.uk@geze.com.
We are constantly developing new technology, launching new products and of course adapting existing ones in order to comply with new legislation. With this in mind, we publish our comprehensive Product Guide and Price List each year so that specifiers have all the information they could need in an easy to use format.  We can send a hard copy in the post, or email an electronic version   – so now's the time to get in touch.
Andy Howland, sales director of GEZE UK