The Levolan 120 designer sliding door system has received the ICONIC AWARD 2017
The aim of the 'ICONIC AWARDS 2017: Interior Innovation' prize is to reward the best in all areas of Interior Design. The design prize – which is one of the most renowned in the interior design sector – is awarded by the German Design Council. The Levolan 120 designer sliding door system is the 'winner' in the building fixtures competition category. As an additional honour, the 'Levolan 120' will be on show as part of the exhibition taking place from 16 to 22 January 2017 in the Kölnischer Kunstverein as part of the 'imm cologne' international interiors trade fair.
The Levolan 120 from GEZE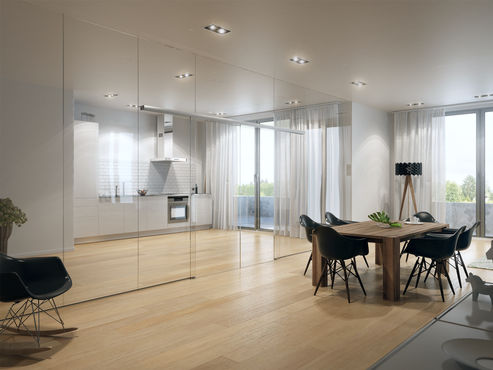 With its subtle appearance and the small dimensions of the overall fitting system, the Levolan system fits into any architecture and installation situation. © Exorbitart / GEZE GmbH
The Levolan 120 shone in assessment criteria such as benefits, design, design quality, degree of innovation, usability, functionality, accessibility, safety and durability. With its discreet appearance, and the compact dimensions of the total sliding fitting system, it can be integrated with any architecture and installation situation. Thanks to the compact, modular design, it is no larger, yet carries twice the load of its 'little brother', the Levolan 60, and so is an optimal solution for heavy door leaves. All-glass or wood sliding doors with door leaf weights of up to 120 kilograms can easily be elegantly designed, and effortlessly moved.
The whole fitting technology of the Levolan 120 is integrated into the track which is only 50 millimetres high. The Levolan 120 SoftStop draw-in damping, which also can be integrated into the track, provides safety and comfort. The sliding door leaves are guided gently and safely into the end position. There is virtually no possibility of anything hitting the frame, or any risk of getting fingers trapped. Specially designed carrier rollers ensure an excellent load distribution and smooth running characteristics. Derailing protection is automatically activated when the height of the door leaf is adjusted, thus providing additional safety, almost by itself. The clamping roller carriage of the Levolan 120 is designed for glass thicknesses of 10 to 12.76 millimetres. This enables standard glass thickness for laminated safety glass (LSG) to be integrated easily. The Levolan Smart fix installation system makes installation fast and easy.
About the ICONIC AWARDS competition: Interior Innovation

Award ICONIC AWARDS 2017: Interior Innovation Winner
As the organiser, the German Design Council creates a unique platform with this competition for networking between architects and property developers and the interior design industry. It was launched over 60 years ago on the initiative of the German Bundestag. Its task is to promote the quality of our living environments through good design in all areas. About how the ICONIC AWARDS are decided: A highly qualified, independent panel of representatives from the fields of design, trade and media judges the Interior Innovation entries.