Quintessenz: GEZE GmbH Grand Prix for Simon Runte
The show jumper Simon Runte from RFV Weilheim/Teck won the highly challenging show jumping competition with winning round on his 8-year-old Holsteiner mare Quintessen. He achieved the best overall score: 44.41 seconds with one time penalty point from the round. The rider was presented with the prize money and a valuable gold coin, while the horse received the beautiful GEZE horse blanket.
Congratulations on a great season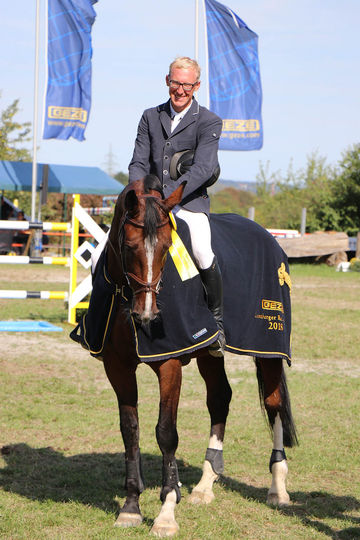 Our congratulations to Simon Runte. © GEZE GmbH
Our congratulations go to the winner, already the victor of this season's challenging show jumping competitions at the National tournament in Tübingen and at the top South German tournament in Nördlingen. Two years ago, he and his horse Quintessenz were nominated for the World Championships of Young Horses in Zangersheide, Belgium. He completed his training with the Olympic rider Paul Schockemöhle, among others.
Speed is not everything
The runner-up Tobias Sawatzki and the 8-year-old Belgian mare Koresse de Jucaso (Göbrichen) were only a hundredth of a second slower with one time penalty point. The fastest were Markus Kölz and the 10-year-old chestnut gelding Dornadello (Winnenden) at 36.08 seconds. But four penalty points meant they only made 3rd place. 30 horses and riders started out, ten were placed, but only the eight best riders made it to the finals.
GEZE and equestrian sports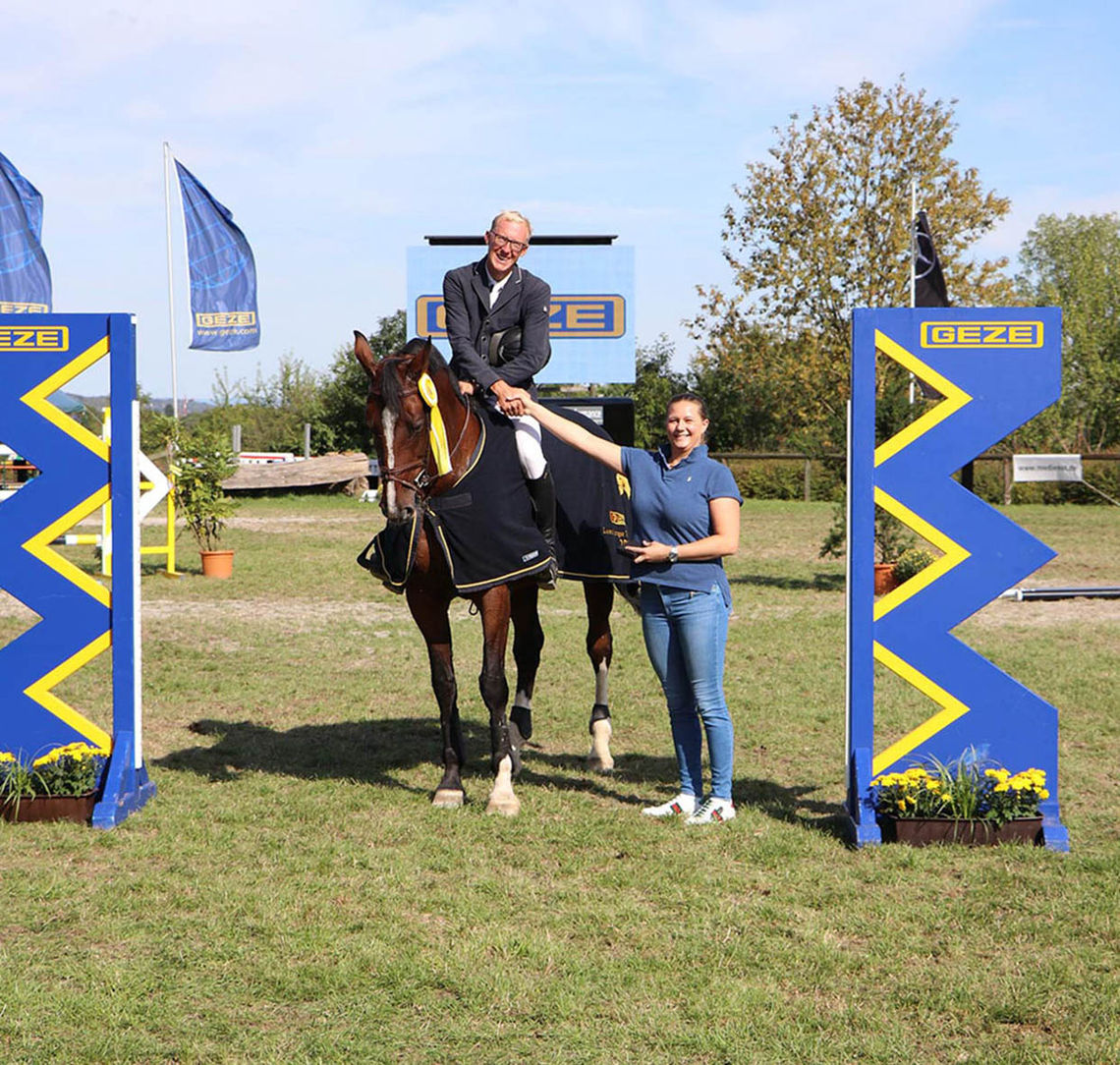 Award ceremony in very best riding weather. Sandra Alber, GEZE shareholder, presents the prize to Simon Runte, winner of the highly challenging show jumping competition. © GEZE GmbH
The GEZE GmbH Grand Prix motivates renowned show jumpers every year. GEZE is as closely associated with the city of Leonberg as it is with equestrian sports - one of its many social commitments. GEZE is traditionally the main sponsor of the Leonberg Equestrian Games (Leonberger Reiterspiele) and the founder of this highly challenging show jumping competition.
Press information
For editorial queries
Julia Graf
Phone: +49 - 7152-203-505
E-mail: j.graf@geze.com