GEZE supports the 2017 Ditzingen Race for Life
It was GEZE's tenth consecutive year at the charity run, raising money for cystic fibrosis. The GEZE LEO team was again one of the largest groups of participants this year. Their efforts raised over 3,000 euro for the cystic fibrosis research project.
Charity run for cystic fibrosis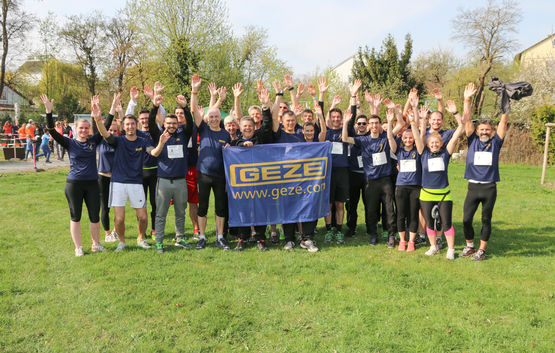 A total of 63 employees from all parts of the company were at the start line as part of the GEZE LEO team running group. Supported by family and friends, they covered 1,008 kilometres together. The GEZE LEO team raised a total of 2,420 euro, which corporate management rounded up to 3,000 euro. Each individual kilometre has been turned into a donation that will support projects to improveme cystic fibrosis therapy and research, and help raise public awareness of the still incurable metabolic disease.
Social commitment plays an important role at GEZE
"The Ditzingen Race for Life is a key component of our commitment to medical and social issues. We are happy that so many staff members took part with so much enthusiasm, getting involved for a good cause. GEZE has also been supporting the Foundation for Sick Children in Stuttgart (Olgäle-Stiftung für das kranke Kind e.V.) for many years. In cooperation with Germany's Plan international children's relief organisation, GEZE maintains over 150 sponsorships for children and young people in the poorest regions of the world," says Gabi Bauer, head of the Division of International Marketing.