Slimdrive
Slimdrive SCR-FR GGS Automatic curved sliding door system for escape and rescue routes for constructing all-glass solutions
Escape route function with redundant drive design
Very quiet running, low-wear direct current drive with a height of only 7 cm
The system consists of two drives that are controlled separately from one another.
High-quality stainless steel fittings open up a wide range of applications
Moving leaves are frameless and are attached to the roller carriage by means of two single point fixings.
The floor guide is attached to the glass with single point fixings.
40 % more opening width than with linear sliding door drives
Wide range of drive variants and equipment options possible
Can be networked, and integrated into the building automation via open standard (BACnet)
Independent error recognition and recording
Freely configurable inputs and outputs for different functions
Integrated, rechargeable battery for emergency opening in case of safety-relevant faults, such as power failure
Self-cleaning roller carriage reduces maintenance effort and costs
Various mechanical and electrical locks are optionally available
Contact us
Automatic curved sliding door system for escape and rescue routes for constructing all-glass solutions
Application Areas
2- and 4-leaf all-glass door systems in escape and rescue routes
Interior and exterior doors with high access frequency
Representative building entrances with large incidence of light
Façades with slim post-rail constructions
Glass façades with the highest design standards
Opening widths of 800 to 2300 mm possible
Door leaf weights up to maximally 100 kg
Installation situations in reference objects and videos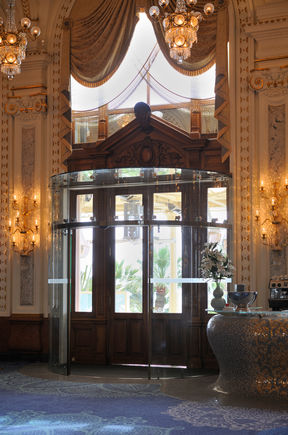 Slimdrive SCR-FR GGS
Suitable for indoor and exterior door with high frequency. For representative entrances of buildings with great light incidence. Has an escape route function with redundant drive execution. © Jean-Louis Martinetti / GEZE GmbH
Technical data
| | |
| --- | --- |
| | Slimdrive SCR-FR GGS |
| For escape and rescue routes | Yes |
| Barrier-free | Yes |
| Adjustable opening speed (ventilation) | Yes |
| Adjustable closing speed | Yes |
| Opening width 2-leaf | 800 mm - 2300 mm |
| Clear passage height | 2500 mm |
| Canopy height (min.) | 75 mm |
| Leaf weight (max.) 1-leaf | 120 kg |
| Leaf weight (max.) 2-leaf | 120 kg |
| Radius (min.) | 1250 mm |
| Radius (max.) | 2000 mm |
| Moving leaf version | 10 mm ESG-H with GGS fitting system (GGS variant), Special glass on request |
| Side elements version | 10 mm LSG, Special glass on request |
| Surface | Powder-coated according to RAL, Anodised light alloy E6/EV1, colour anodised according to sample, Coated with polished stainless steel, coated with grit 240 stainless steel, special coating on request |
| Version of roof structure | optical sheet metal covering, Glass roof |
| Illumination | not possible with glass roof |
| Floor covering | Entrance mat, Entrance mat according to customer wishes |
| Hot-air curtain system | possible, depends on the ceiling construction |
| Off-centre façade connection | Yes |
| Special functions on request | Yes |
| Operation | Programme switch DPS, Programme switch TPS, Control via building management system |
| Standard conformity | DIN 18650, EN 16005 |