Technology-based service solutions
GEZE UK offers a full range of after sales support including fast reactive response to an emergency door repair and planned maintenance packages to suit customer and legal requirements. We offer maintenance contracts for all makes of automatic and manual pedestrian doors as well as industrial doors and each contract is tailored to individual customer's needs.
Immediate response
When an automatic door stops working you need assistance - fast!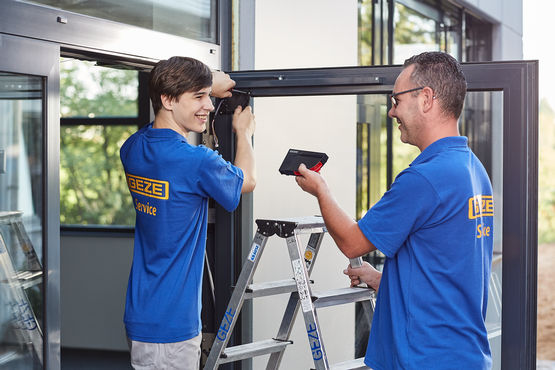 Photo shoot of employees for external and internal communication as the face of the company. © Karin Fiedler / GEZE GmbH
GEZE UK service never closes. We offer a 24 hour seven day a week reactive call out service throughout the year.
Providing national coverage and a local service, our dedicated team is there to help you when an emergency occurs. Backed up with full traceability, accountability and responsibility you can rely on GEZE UK.
From initial enquiry to job completion we are there.
Our helpdesk is fully monitored; every call is logged recording the client's details, the time of the call and the nature of the problem. To ensure your call is dealt with efficiently, helpdesk staff are fully trained in establishing what the problem is and will advise how quickly an engineer can attend.
The engineer will attend site within the stated time. Our well equipped vehicles carry a stock of popular components to ensure a high first time fix rate. If in the event, a further visit is required, the engineer will ensure the doors are left in a safe condition and the building is completely secure.
Following the call out a report is completed detailing the time spent on site and the work completed. If further work is required a comprehensive quotation will be raised within 48 hours. We offer competitive rates for all call outs and follow up work. If the engineer recommends that further repairs are no longer cost effective or obsolescence suggests that a new operator would be a better option we can offer a conversion to a new automatic operator.
Finally all doors are asset tagged to ensure up-to-date records are kept.
You will always be able to contact us
You will always speak to a real person
All details are recorded to ensure we meet our high standards
We guarantee fast response times
We guarantee competitive rates
We have well equipped vehicles stocking popular components
Worksheets record time spent on site and detail work completed
Quotations for further work are issued within 48 hours
Door operator conversions available if required
All doors tagged for asset management purposes
PPM Contracts
Service packages for Planned Preventative Maintenance (PPM)
As more individuals across the UK are encouraged to apportion blame with a view to receiving compensation when something goes wrong, so companies have to ensure that they have done all they can to prevent accidents and protect themselves in the event of litigation.
A Planned Preventative Maintenance programme, PPM, can help offer that protection and in the event of an accident can demonstrate that all reasonable care has been taken to ensure a door is working correctly and so offer a defence should a court case arise. However that is not the only reason to have a PPM contract; like any equipment an automatic door will only perform to its optimum efficiency if it is maintained regularly and correctly.
A PPM from GEZE UK ensures that the highest standards of operational performance and safety of all doors whether automatic, manual or industrial are maintained as well as access control systems and windows.
We provide service solutions for
Automatic sliding, folding and swing door systems
Automatic and manual revolving doors
Manual doors
Retail shutters
Industrial shutters & overhead sectional doors
Smoke and heat extraction systems
Natural ventilation windows
Each door has different requirements depending on its type, where it is sited, volume of traffic and whether the traffic is trained or untrained. And so, GEZE has developed a range of service packages and will recommend the most suitable one for you, taking into account your building and the people that use it.
From a simple 1 Star to a tailor made 4 Star , individual, industry specific service designed to meet the exact needs of each customer.
Service packages
1 star service package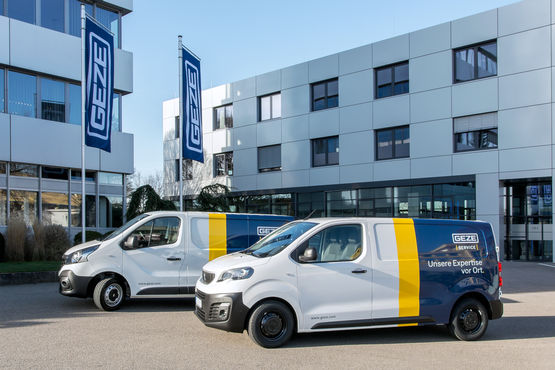 © GEZE GmbH
A simple, safety check to ensure compliance with BS 7036 / EN 16005.
PPM
Safety check
Discounted parts
24 hour service
Response time
Asset management
Repair excluded: The repair or replacement of worn or defective parts is not included.
2 Star Service Package
Service package to ensure maintenance and safety of your doors and inclusive labour costs on re-active call outs.
PPM
Safety check
Discounted parts
24 hour service
Response time
Asset management
Labour included: Labour charges are included and not charged separately, where GEZE attend re-active call outs within normal working hours (Mon-Fri 08:30 - 17:00). Subject to a maximum agreed number of call outs per equipment /per year.
Term of contract: The minimum term of the contract is 3 years. A termination is possible in writing providing 3 months' notice is given. If no cancellation is made, this contract will be automatically extended by one year.
4 Star Service Package
The complete service package from GEZE combines a full service plan with a fixed budget.
PPM
Safety check
Discounted parts
24 hour service
Response time
Asset management
Labour and material costs included: GEZE Service, during the term of the contract, sustains the value of your investment. All repairs, including all parts and labour, are included in the price unless the damage is caused by misuse or abuse.
Term of contract: The minimum term of the contract is 3 years. A termination is possible in writing providing 3 months' notice is given. If no cancellation is made, this contract will be automatically extended by one year.
Quickcare
Technology and web-based service tool
GEZE QuickCare enables automatic fault reporting and remote access to the drive technology. This means short response times when it counts. At the same time, fewer site visits to deal with faults are needed thanks to the remote access function. A double benefit to the customer as QuickCare saves both time and money.
The advantages of GEZE QuickCare at a glance:
Maintenance: GEZE Service maintains systems based on the requirements on the entrance system
Safety check: GEZE Service performs compliance checks, in accordance with the legal requirements, of the operational safety of all security and control systems that form part of the door system.
Remote maintenance: Data can be monitored across different buildings thanks to ongoing notifications of the system status via the GPRS network.
Qualified troubleshooting: In the event of a system fault, GEZE Service technicians receive an exact description of the error.
Remote maintenance/system reset: In the event of electrical faults, GEZE Service technicians can easily complete a system reset via remote dial-in.
Monitoring movement data: On request, movement data for the automatic door can be provided to the client in the form of an Excel table.