Automatic or manual sliding door: the right choice when planning your door?
Sliding doors are often used when a particularly convenient, space-saving and at the same time elegant solution is called for. But in some cases, a swing door or even a revolving door may be the better solution: we support you in finding the right door solution.
The different sliding door varieties in a quick check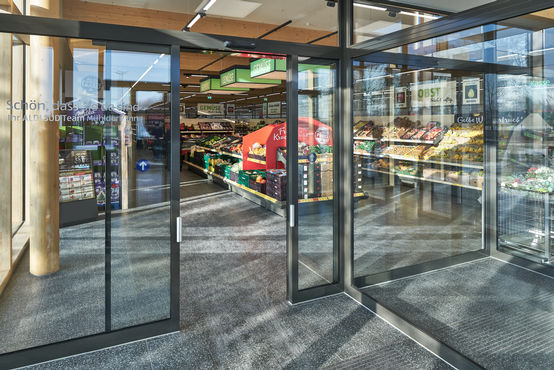 Slim, elegant design combined with performance: the sliding door system opens and closes more than 4000 times a day for the customers of ALDI SÜD in Mühldorf am Inn. © Robert Sprang / GEZE GmbH
Fire protection, accessibility, convenience, design or frequency of footfall – GEZE sliding door solutions have an answer to all these demands. Nevertheless, with each new project, planners and architects are faced with the task of addressing the specific structural demands, and selecting the door type with the best combination of capabilities and functions.
Sliding door systems for outdoors and indoors
Accessibility combined with safety and an elegant design –automatic sliding doors make it possible. GEZE sliding door systems for exterior and internal application create convenient access, and simultaneously satisfy architects' aesthetic demands. Even in an emergency, the highest safety standards are maintained. An integrated rechargeable battery ensures that the sliding door opens or closes automatically, for instance in the event of a power failure. Furthermore, automatic sliding doors are the right choice in terms of energy efficiency: On the one hand, no doors remain open under normal circumstances, and on the other hand, energy-efficient profile systems, such as GEZE ECdrive T2, offer an improved energy balance. Apart from our standard products, we also offer you numerous individualised automatic sliding door solutions.
Whether as a room divider, partitioning or passage – manually manageable GEZE sliding door fitting systems allow doors in internal applications to slide open and close smoothly and quietly – even under heavy load and use. Glass sliding doors provide an optical highlight, and add high-quality architectural accents that capture daylight optimally. Here, our first-class processed and sleek sliding door fitting systems set standards in terms of flexible planning and creative freedom.
The advantages of sliding doors
Generally speaking, the following applies for GEZE sliding doors: whether as an impressive entrance or an eye-catcher in an internal application – sliding door systems always score when it comes to convenient, safe access and design.
GEZE sliding door systems are deployed in numerous industries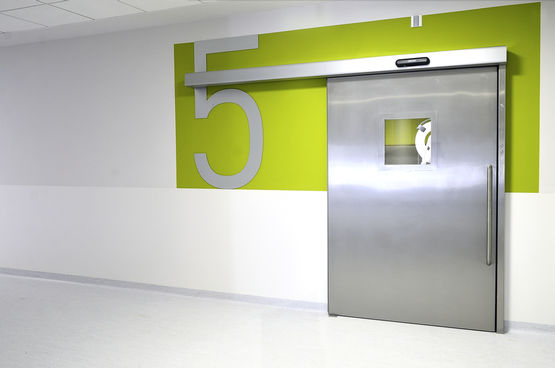 GEZE ECdrive at the entrance to the operating theatres at the Children's Memorial Health Institute, Warsaw © Łukasz Janicki / GEZE Polska
Whether in retail, in the hotel and catering industry or in public buildings - automatic sliding doors provide access to buildings in about 80 per cent of cases. This is because it is important that as many people as possible can enter or leave a building as comfortably and safely as possible. But contactless operation and barrier-free access also play a major role in the application inside of buildings. Automatic sliding doors are often used in areas with increased hygiene demands, for instance in hospitals.
With the exception of our Apoll product, GEZE sliding door fitting systems are installed inside buildings only – and here in particular in office buildings, surgeries or also in the private residential sector.
Central demands and functions of the three door types
SLIDING DOOR
REVOLVING DOOR
SWING DOOR

Fire protection

Sliding door fittings: No

Automatic sliding doors: Yes
No

depending on the product selection, see here.

Accessibility

Sliding door fittings: optional

Automatic sliding doors: Yes

No
Yes, but observe usage limits with exceptions.
Escape route

Sliding door fittings: No

Automatic sliding doors: Yes, if approved as escape and rescue routes

Manuell: No

Automatic: Only for escape and rescue routes (not smoke protection): Yes, only with the 'break-out' fitting variant with folding leaves

Yes, possible with most swing doors Exceptions are listed here.

Interior/exterior door

Sliding door fittings: for internal applications

Automatic sliding doors: Both, primarily external applications

Both

Interior or façade doors are possible, depending on the swing door type. Further information is available here:

For hold-open systems: Various demands and functions that do not apply according to the table can be implemented on a building-specific basis. Please contact us.
Footfall frequency

Sliding door fittings: Low/medium

Automatic sliding doors: High

Manual: Low to high

Automatic: High

High, exceptions are listed here.

Appropriate door systems
Single and multi-leaf sliding doors
3 and 4-leaf door systems

Single and double leaf door systems are possible for most swing door types, right and left single-action door. Exceptions are listed here.

Leaf material wood/glass/metal
Wood + glass
Glass/ aluminium

Wood and glass for most swing door types. Exceptions are listed here.
Find the right sliding door system for your project
Do you already know that a sliding door system is the perfect match for your structural demands? Then find out more about the special features of our sliding door product group in our advice series.
Find the right automatic sliding door
Integral door planning with BIM
Doors are among the most complex components in building planning. We offer you comprehensive advice on the subject of BIM as well as free BIM door objects. For example, you can load GEZE sliding doors in various CAD systems and configure them individually. A valuable tool for your integral building planning.