Topics
Fresh air produced by intelligent window ventilation
Buildings are becoming ever more tightly sealed for energy-saving purposes. This saves on heating costs, but requires intelligent ventilation to efficiently ventilate and aerate buildings. Natural ventilation provided by automated windows is a smart solution that significantly improves the indoor climate while consuming little energy and with low investment costs.
People are generally not very good at providing adequate ventilation in buildings
A good indoor climate depends on a number of factors. Temperature and air humidity both play key roles, but acoustic and visual aspects also contribute to well-being.
But why is typical ventilation often insufficient? Whereas people respond well to thermal, acoustic and visual stimuli, they lack sensitivity to air quality. People primarily judge indoor air quality based on bad smells, but they get used to these smells the longer they stay in the same room and so they don't notice a reduction in room air quality.
We only notice "poor" quality air when it is too late. Efficiency drops, and people become sleepy or get headaches – due to excessive concentrations of CO2 caused by people breathing. The situation is exacerbated by pollutants which can be emitted from furniture or carpets.
We provide you with tips for efficient air exchange through natural ventilation in an expert lecture at BAU Online 2021.
Go to the video
Mandatory controlled ventilation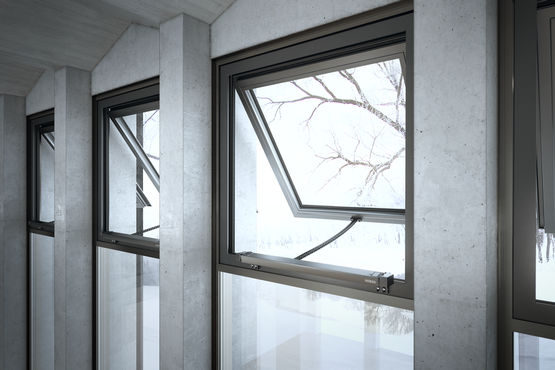 Natural ventilation via convenient ventilation technology.
Due to modern, energy saving construction methods, we work, live and learn in increasingly hermetically sealed buildings. The downside of this: not enough fresh air flows in, and moisture, heat and odours are not extracted effectively due to the insufficient rate of air change.
However, the German Energy Saving Ordinance (EnEV) prescribes that buildings must be constructed in a way which guarantees the minimum rate of air change that is necessary for the purposes of health and heating. Controlled ventilation is therefore needed in a building which has been constructed in accordance with EnEV.
A mechanical ventilation system is one solution. But who enjoys working or living in a building where you can't open the windows because of the ventilation system? Many people feel uncomfortable in rooms where the windows are always closed. The alternative to this is controlled, natural ventilation via windows, which automatically draws in fresh air directly from the outside.
Natural window ventilation based on temperature fluctuations and wind
Natural ventilation – also known as "free" ventilation – achieves the exchanging of air through the windows without any mechanical ventilation system whatsoever. The required air flows are produced solely by the temperature and pressure differences between the internal and external air, and by naturally occurring wind flows.
The "smart façades" themselves create the ventilation. This means that powered-operated windows are controlled by sensor signals, e.g. by weather stations or air quality sensors. Intelligent indoor climate regulation systems identify wind strength and direction, external temperatures and precipitation, room temperatures, air humidity and CO2 values of the indoor air, and they control the opening and closing of the automated windows accordingly. This type of window control is completely independent of the user, even when the building is empty.
FIND OUT MORE ABOUT SMART FAÇADES
Natural and energy-efficient ventilation
In addition to CO2, classrooms or offices with a large number of people also generate a lot of heat. In the summer in particular, solar radiation often heats the room up even more. Natural ventilation can draw unwanted warm air out of the room towards the outside and so let fresh, cooler external air flow in. In the cool night-time period, free ventilation provides natural building climate control. This produces good air quality naturally due to the differences in temperature, without using any energy to supply and cool the air.
Greater convenience, safety and hygiene thanks to automated windows
The risk of viral infections being spread can be higher in closed rooms because of aerosols. Consequently, a sufficient flow of fresh air provided through ventilation is recommended to improve indoor air hygiene. But if windows have to be opened manually, the contact involved can transmit bacteria, germs and viruses. Automated window drives, which can be operated in a non-contact way, increase convenience and safety for users.
DISCOVER OUR GEZE SOLUTIONS FOR NATURAL VENTILATION HERE (PDF | 0.97 MB)
The benefits of natural ventilation with electric window drives
Healthy and pleasant air quality and air temperature ensure the well-being of the people in the room
Greater convenience thanks to user-friendly operation
Increased safety and hygiene thanks to low-contact operating elements
Protection of the building fabric (mould prevention)
Controlled opening and closing of the window saves energy compared to continuous mechanical (fan-based) ventilation
Simple integration into existing buildings / modernisation properties as a cost-effective retrofitting solution
Convenient and flexible: automated window ventilation system
Intelligently controlled windows ensure natural ventilation, and in contrast to mechanical ventilation systems the user also has the option of personally intervening in the ventilation process, for example by using ventilation buttons located nearby. Automated systems therefore enjoy a high level of acceptance among users.
Automated windows are indeed convenient: if someone forgets to close the windows, they are closed in a controlled way via the supply unit so that no valuable heat is lost and building safety is maintained.
Possible settings and combinations
convenient ventilation
night-time cooling
gap ventilation
intermittent ventilation
fresh air in the morning
individual user control function
weather-dependent safety functions
Combination with smoke and heat extraction
Safe design of automated windows
Automated power-operated windows are classified as machines according to Machinery Directive 2006/42/EC. Therefore, all freely accessible power-operated windows whose lower edge is less than 2.5 m above floor level are subject to specific protection ratings and associated safety measures.
Natural ventilation and smoke and heat extraction systems
In the event of a fire, natural smoke and heat extraction systems open windows in the roof or façade to direct smoke and hot gases out of a structure to the outside. In Germany, they are mandatory when natural smoke extraction is required according to the building regulations. This is mandated in the building regulations for special types of buildings in particular, for example for schools, retail outlets and hospitals.
Automated windows in a smoke and heat extraction system provide daily, natural ventilation as an additional benefit.
SOLUTIONS FOR THE CONTROL OF SMOKE AND HEAT EXTRACTION SYSTEMS
Window ventilation systems with intelligent GEZE drives
GEZE Slimchain drive with IQ box KNX © GEZE GmbH
GEZE drive systems are available for a diverse range of window shapes, designs and sizes, whether in the roof or façade. The range includes electrically-operated chain drives, electric spindle drives and locking motors.
Ventilation control in the KNX building bus: IQ box KNX
GEZE window drives and locking systems can be directly integrated into the KNX building bus with the GEZE IQ box KNX. This enables versatile and flexible solutions for natural ventilation to be provided.
Product features
integration of the automated windows into the KNX building bus system
Automated and non-contact opening of windows to any desired position (% opening)
window status feedback (open/closed/%) and drive statuses (cycle number, faults)
timed ventilation, gap ventilation
Automatic closing and locking in the event of rain or wind alarm or when the air-conditioning is switched on
integrated button interface (local/KNX) enables connection of lower cost vent switches
Safety switch module for GEZE IQ windowdrive window drives: IQ box Safety
The IQ box Safety is a safety switching module for closing edge protection on power-operated windows with 24 V IQ windowdrive drive units. All standard window types (e.g. bottom-hung, side-hung, top-hung windows, parallel opening windows) as well as all types of opening (outward opening and inward opening) can be secured. The distinctive feature: the TÜV-tested solution fulfils even the most stringent safety demands of protection rating 4. Because the switching module is suitable for all GEZE activations (smoke and heat extraction system control unit, 24 V power supply, KNX, IQ gear), it can be connected without problem to various systems such as an existing building management system, smoke and heat extraction system or indoor climate regulation.
Product features
meets the most stringent protection demands for power-operated windows according to a risk assessment performed in accordance with the Machinery Directive (protection rating 4 rating according to VFF KB.01)
TÜV-tested functional safety in accordance with EN ISO 13849-1 and -2
intelligent communication with the drive units via LIN-BUS
simple Plug & Play installation
speedy commissioning thanks to sensor inputs with pre-set parameters
Assembly video: GEZE Slimchain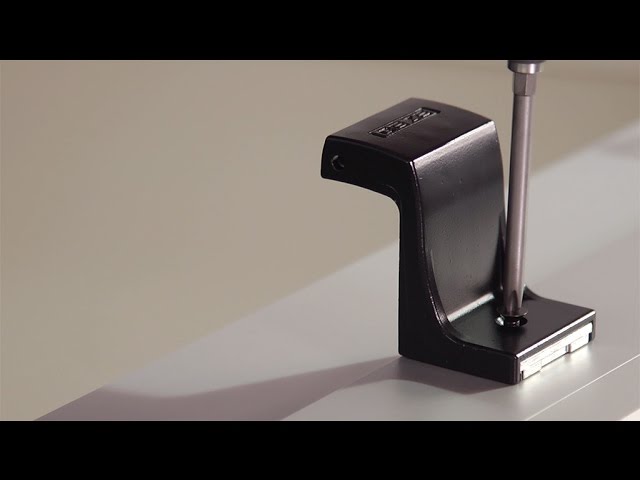 Customised system solutions
GEZE supports you in the planning of natural ventilation systems, such as night-time cooling or automated, intelligent ventilation control with hygienic operating elements.
Natural ventilation can be planned as a pure ventilation application, combined with smoke and heat extraction, or integrated into a superordinate KNX building control system. We can provide project-specific advice on using the IQ box KNX, GEZE window drives and suitable KNX products from other manufacturers in ventilation solutions that incorporate the KNX building bus. It's often a very complex issue because various demands need to be met – ranging from convenience and safety to hygiene measures. We provide support with planning and configuring on the basis of our many years of experience and comprehensive sector know-how.
We can also provide you with installation drawings, tender texts and product brochures.
Wide-ranging expertise from a single source
GEZE expert training prepares installers for the installation, testing and maintenance of window technology applications, and it provides a description of all the necessary steps in the form of a checklist.
GO TO THE GEZE TRAINING COURSES AND SEMINARS
We also provide technical advice on installation, fitting and implementability in line with plans.
GEZE offers installation plans, wiring diagrams, WinCalc for calculating window drives, cable plans, etc.
Safety through maintenance
The client and/or operator is independently responsible for servicing, maintenance and inspection. He is obliged to take all necessary safety precautions to avert any hazards which may endanger people and property in the building. Through regular maintenance, he significantly reduces the actual risk of damage as well as his liability risk in the event of damage (see also safety obligation, German Civil Code [BGB], Section 823).
GEZE ventilation drives must be serviced by a competent specialist firm, taking into account the particular operating conditions but at least annually.
GEZE offers support with maintenance, provided either by GEZE Service or our authorised partners.