Topics
Energy-optimised construction with smart façades
The energy we consume is limited and precious. So we try to build in an energy-optimised way. This requires greater communication and cooperation between the product groups. The aim is to reduce the need for primary energy for the operation of a building to a minimum – ideally even to zero. This means that the energy consumption for ventilation, lighting and cooling must be reduced – for example through smart façades that react actively and automatically to their environment. Resource-saving, energy-efficient façade solutions therefore start with intelligent and interdisciplinary planning and design.
High demands on modern building envelopes
In the past, the focus was on the appearance of a façade. It often underlined the social status of the owner. And the architect's aesthetic style too!
Today's buildings still need to look impressive, but building owners and operators now face far higher demands on the building envelopes: they have to protect against rain, weather, fire and burglary while at the same time regulating the incidence of light and ventilation as automatically as possible, providing solar protection and minimising the effects of cold and heat. It's how they help to save energy and even contribute to energy generation.
But what makes a façade smart? To meet these demands, individual elements need to be networked in the façade. Individual solutions such as ventilation, heating or access solutions can of course also be smart on their own.
A façade can be described as truly 'smart' if it uses natural, renewable energy sources such as solar radiation, airflow and geothermal energy to meet the building's energy needs with respect to heating, cooling, ventilation and lighting.
Andrea Compagno: Smart glass façades: Material, Application, Design, Birkhäuser 2002
A smart façade requires numerous sensors to measure all possible external influences, wind for example, and transmit these readings to a control unit. Gateways enable networked devices to communicate with each other. The network can be either cable- or radio-controlled.
To achieve effective interaction between all the sensors, actuators and façade elements used, they must be networked - rather like a nervous system. All components and functions are combined and integrated. A building automation system serves as a central 'brain'. It analyses all data in respect of the requirements in order to regulate and control the façade modules accordingly. For example, radiator valves, light switches, dimmers or electronic devices, as well as the entire safety technology with automatic shutters or burglar alarm systems and ventilation can be intelligently controlled.
Energy generation through façades
Examples of this already exist. They usually contain high sound proofing, combined with self-regulating heat, ventilation and solar protection measures that adapt to changing light and climate conditions. Some already use solar energy to comfortably provide interior heating and air conditioning.
Glass façades and solar panels deserve particular focus here. Because glass façades can generate energy from solar radiation in the form of heat and daylight.
Researchers and the construction industry are increasingly working on the development and production of such energy-generating façades. Smart façade systems represent a particularly promising technology for new buildings and the energy-efficient renovation of buildings. Energy saving with intelligent façades already works without any problems. Smart Windows, for example, can significantly reduce energy consumption thanks to automated ventilation and at the same time increase the comfort of building users.
Climate-active façades by GEZE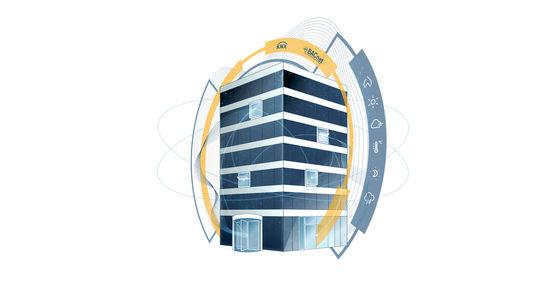 Networked solutions by GEZE for smart façades
As a system supplier, GEZE combines safety systems and drive technology for doors and windows to create innovative, networked and modular solutions. The intelligent interaction of automated window drives and special sensors that detect external environmental influences and the indoor climate results in a networked 'climate-active' façade. It contributes to energy efficiency, e.g. by automatically opening windows on a warm summer night.
Sun protection also plays an important role for the energy balance of buildings and the well-being of the building user. Weather control panels can be used, for example, to control solar protection systems. Climate-active façades also improve the quality of indoor air: it is monitored with CO2 sensors, indoor room climate is checked and draughts are reduced thanks to gap ventilation. Last but not least, climate-active façades guarantee safe operation. Windows and blinds close automatically in stormy weather and time-dependent closing of windows avoids unintentionally open windows.
GEZE drive systems for natural ventilation and RWA
GEZE window drives move a wide variety of windows – either for natural ventilation or as supply and extract air solutions for safe and fast natural smoke extraction (NRA and RWA). In modern glass façades, our drives can be used, for example, to automatically open very large and heavy windows and façade elements (up to 250 kg) as well as parallel-opening vent windows (PAF), even with high wind loads.
In the event of fire, reliable removal of smoke gases is vital for human survival. In addition to the RWA function, RWA control panels with digital bus technology can visualise feedback signals from window drives and network other components such as wind and rain detectors, temperature sensors and ventilation buttons. RWA solutions can therefore also be used for ventilation – and in addition to use in the event of a fire, they can also be used for other purposes.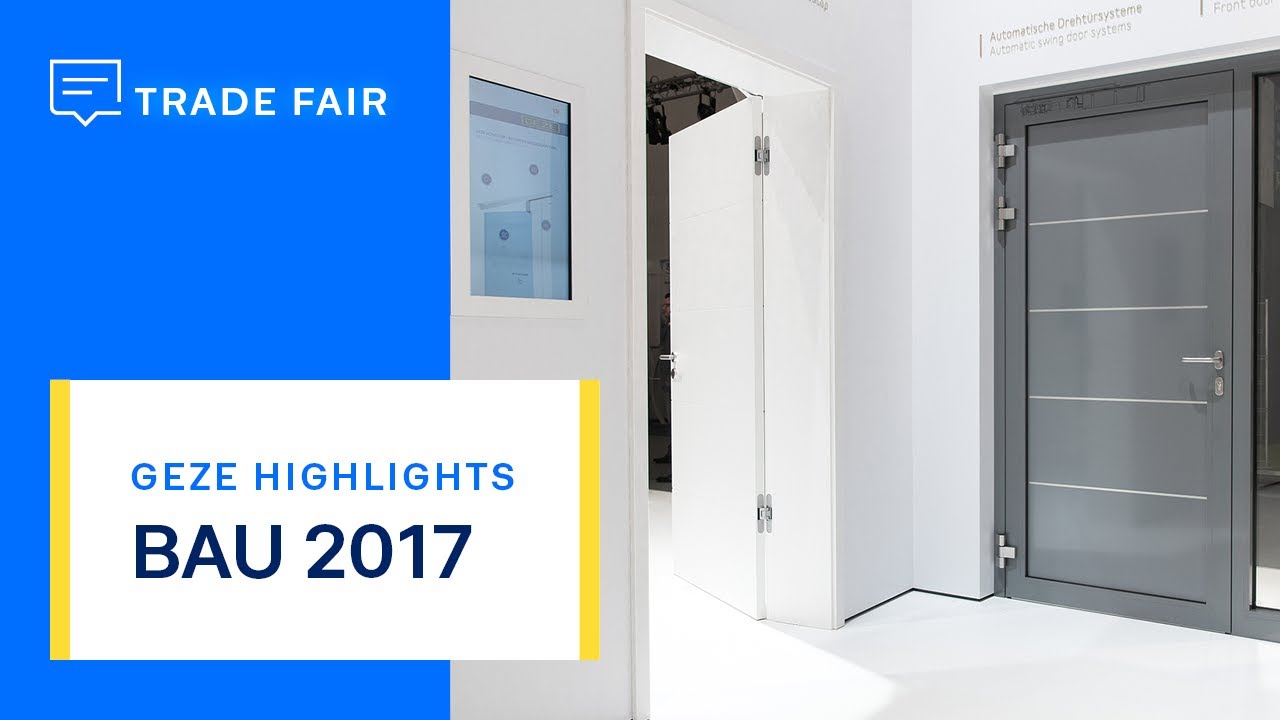 Networking for the 'Smart Building'
Solutions from GEZE can make a major contribution to turning buildings into 'Smart Buildings'. Interface modules enable GEZE products to be integrated into the widely used BACnet and KNX communication standards for home and building control systems. And there's more: the GEZE Cockpit building automation system enables reliable control and monitoring of all connected products.
By networking individual systems such as smoke detectors, automated windows, access solutions, etc., these systems communicate constantly with each other. This enables Smart Buildings to learn the behaviour patterns of building users and to react intelligently to them. The possibility of remote access offers a great advantage for building managers in particular.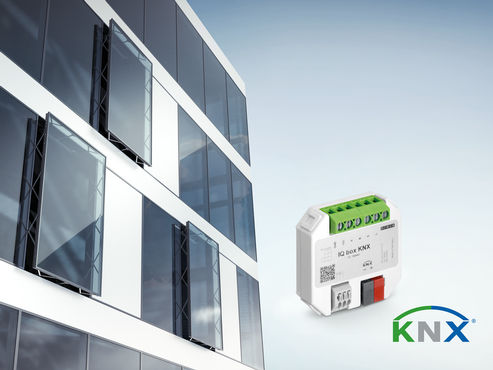 GEZE window drives integrated in KNX building systems
Connection to KNX building bus
In window technology, the IQ box KNX interface module enables controlled, natural ventilation plus the direct integration of window drives of the GEZE IQ windowdrive series into KNX building systems. The IQ box KNX accesses the intelligence of the window drives and reports information such as the opening width to the building management system. Additional sensors, e.g. for measuring air quality, rain, wind and window protection, can be integrated into these system solutions under KNX. Thus, the automated windows can be intelligently controlled and monitored, and networked with shading, heating and air conditioning.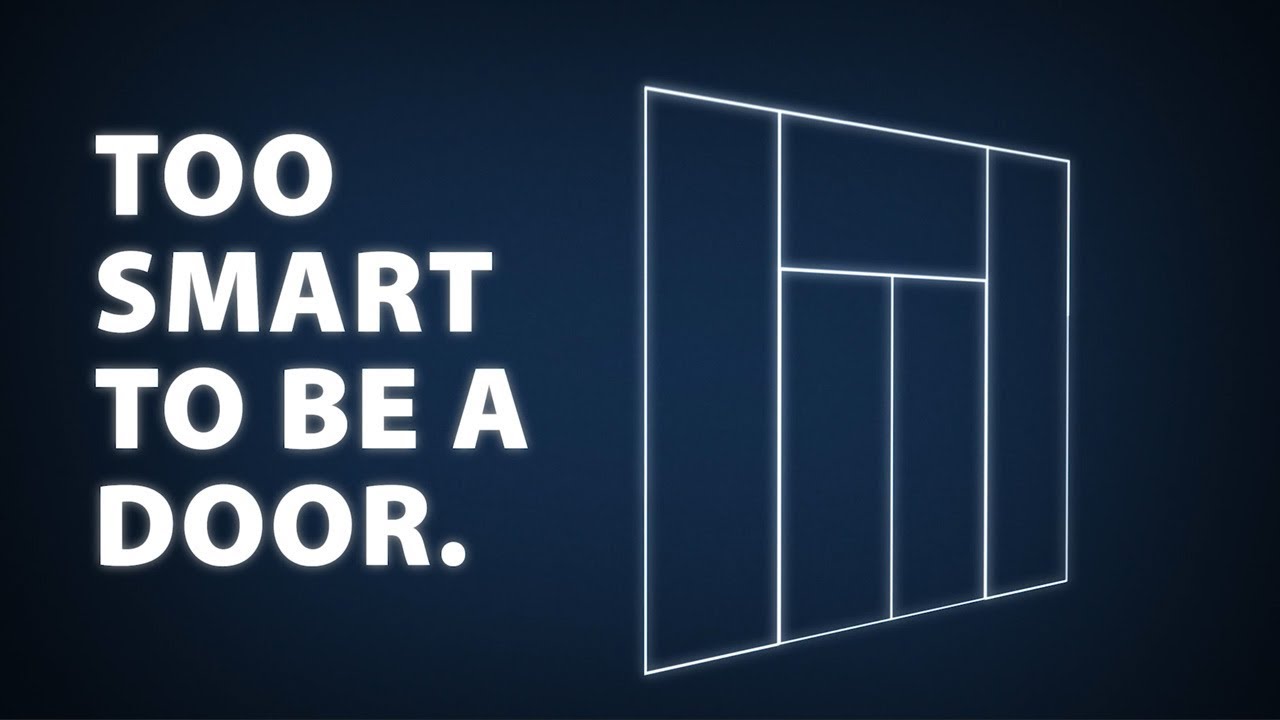 The GEZE Cockpit controls windows, doors and safety systems.
Networking via BACnet
The GEZE IO 420 interface module provides access to the sustainable BACnet world. GEZE's intelligent door and window systems can thus be networked in buildings using the BACnet communication standard.
With GEZE Cockpit, GEZE also offers a complete BACnet building automation system. This allows automated GEZE products to be reliably visualised, monitored and controlled. GEZE Cockpit can function both as an independent building automation system and can be integrated into a higher-ranking building management system.
Industry know-how for smart façades
GEZE supports architects in their planning and draws on many years of experience and industry know-how to create individual concepts for smart façades!
Façades are very important to the look and design of a building, and so GEZE offers excellent solutions for architects - with everything from a single source. GEZE also helps to meet a range of building requirements: accessibility, energy efficiency, fire protection, escape routes as well as design and comfort, for example.
Help with window calculations and building automation
GEZE Win Calc: the calculation tool for window technology enables the calculation of manual ventilation solutions, electromotive ventilation windows, RWA windows as well as NRWGs and the design of the appropriate emergency power control unit. Calculations of drives with configurable stroke and other special solutions are also possible. There are calculation reports and parts lists as proof for your documentation.
Individual service solutions and holistic support
GEZE offers added value through unique customer support over the entire life cycle of the products. GEZE offers various services such as installation, after sales packages, maintenance and repairs. GEZE is also happy to provide advice when it comes to renovating, modernising or retrofitting existing buildings.