Topics
Automatic ventilation via windows - natural and energy efficient
Automatic ventilation concepts which are based on natural window ventilation provide improved indoor air hygiene in all types of buildings. Compared to conventional air-conditioning systems, they are a better, energy-saving option for supplying fresh air. Air is exchanged without fans, through the windows, simply through the temperature difference and wind pressure.
Window ventilation systems: fresh air for a healthy indoor climate
Headaches, tiredness or allergic reactions - poor quality and stale air in buildings have uncomfortable consequences for many people. Improved insulation in modern or renovated building means that hardly any fresh air gets into buildings, making the indoor air hygiene much worse and resulting in increased pollution and mould formation. The solution in most cases is simple: natural ventilation via windows.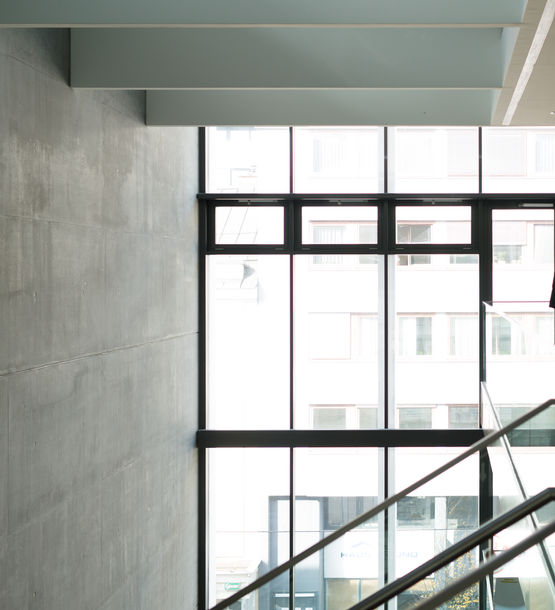 Automatic window openers ensure a comfortable indoor climate. © Sigrid Rauchdobler / GEZE GmbH
Manual ventilation or a machine ventilation system?
Manual ventilation means: short and intensive ventilation - or intermittent ventilation - is better than keeping a window tilted open over a longer period. However, one disadvantage of manual ventilation is that it requires conscious effort. When and for how long the window is open are fairly random, however, since humans do not have sensors to detect poor air quality.
In contrast, a machine ventilation system is a piece of technical equipment that automatically provides external air to interior rooms or removes stale air. We can differentiate between centralised and decentralised systems. Depending on the application, installations feature controlled fresh air supply (fresh air system), controlled exhaust air (exhaust air system) or combined fresh and exhaust air installations
Centralised ventilation systems work with heat recovery, and consist of a ventilation device with fans and heat exchangers, as well as the associated air distribution system that suctions or diverts the air in a controlled manner.
Decentralised ventilation systems do not generally have an air guidance system, but instead consist of multiple small devices installed directly in the exterior wall.
A ventilation system determines the airflow as needed. However, this type of controlled domestic ventilation system is associated with high costs because of the high energy consumption and space requirements. These systems also require a lot of maintenance, for example the filters need to be cleaned and exchanged regularly. Otherwise, over time mites may get into the system and be distributed throughout all rooms with the fresh air, having a significant negative impact on air hygiene and, in the worst case scenario, triggering health problems. This applies equally to ventilation systems in residential buildings as well as in public buildings, hospitals, hotels and schools, etc.
Automatic window ventilation is an attractive alternative to a ventilation system
Automatic ventilation via a motor-operated window, i.e. a window ventilation system, is an attractive alternative to machine ventilation systems. This type of ventilation for indoor and residential venting ensures good air quality, without requiring a large amount of energy. Sensors measure the carbon dioxide content in the room, for example, and regulate the opening and closing of the window automatically. Air is exchanged via the natural temperature differences between the interior and exterior, and the wind pressure. In summer, this window ventilation assures building climate control in the cool night-time period. By doing so, this type of ventilation ensures good air quality without power-operated fans.
The advantages of automatic window ventilation systems
Lower investment and maintenance costs in comparison to machine ventilation
Sustainability: automatic window openers are more efficient than air-conditioning systems since they use natural resources.
Convenience: automation enables individual and flexible control.
Indoor air quality: for example, potential humidity-related damage is prevented
Improved indoor air hygiene and reduced transmission points for bacteria, germs, and viruses
Prerequisite: windows with electric drives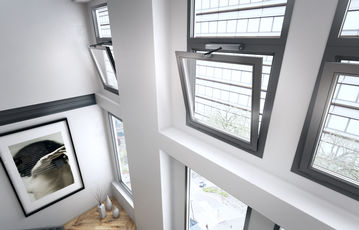 Good quality air in buildings at all times - with the right window technology © Exorbitart / GEZE GmbH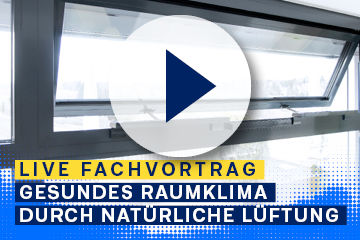 Windows with electric drives allow for automated opening and closing via a timer. Automated ventilation is most effective when it is controlled by sensors, however. This ventilation control monitors the indoor air quality and the controller ensures windows are in the necessary statuses. Users can take control during automatic operation at any point, however, and comfortably and simply operate the drive using vent switches. This results in a high level of acceptance among building users. Automatic window ventilation depends on particular settings:
Sensor-controlled window opening factors
The internal and external temperature and the difference between these values
The wind strength and direction and precipitation
The periods of use, e.g. times of day, weekdays and weekends
The indoor air quality: air humidity, CO2 or VOC values and interior temperature
Building automation thanks to integrated control technology
Modern control technology permits flexible and variable adjustment of the ventilation stroke, the opening speed and the ventilation time per window. The drives can be adapted to various window sizes and opening widths and therefore enable building-specific solutions. If necessary, the integrated synchronised mode of the drives of the GEZE IQ windowdrive series enables the real synchronisation of up to four window and two locking drives.
Our smart window ventilation systems are paving the way to increased sustainability in public and private buildings and enabling modern smart building concepts.
Sven Kuntschmann, GEZE window technology segment manager
Automatic window control for ventilation can be networked with a comprehensive indoor climate and building control system, which can also control blinds, awnings and shutters as well as heating systems, air-conditioning, and light and alarm equipment.
Smart networking with central control for ventilation is particularly beneficial in large buildings, since the windows do not need to be closed manually. They are activated via field bus protocols. The drives can create intelligent building technology via radio, KNX or BACnet installations, and thereby permit smart façades.
Improved indoor air hygiene and reduced areas to transmit viruses and other pathogens.
FAQ: Automatic window ventilation
With automatic ventilation via windows, the fresh air supply in a building is controlled via wind pressure and specialised sensors. Electrically operated windows are opened and closed automatically via an intelligent mechanism.
Automatic window ventilation ensures better indoor air hygiene and a sufficient supply of fresh air in all types of buildings. In principle, it is a good choice for all operators of public or private buildings. It is useful in particular in areas where multiple people work together, spend lots of time in closed rooms, and where hygiene plays a particularly important role, for instance in hotels, offices, hospitals or schools.
Electric window drives and interface modules can be retrofitted in buildings of any kind. We at GEZE are happy to advise you, and offer complete solutions and individual products to ensure a healthy indoor climate.
Learn more about GEZE window systems here
To provide you with an easy-to-understand overview of our window systems, an aid for choosing the right window drive is available here.
Individual and project-specific planning
GEZE supports planning for automatic ventilation systems with suitable ventilation concepts. Architects are now opting for unobtrusive, minimal design. The new drives have a discreet and universal look which can be colour-matched. They can be discretely integrated into any façade.
We also offer tender texts for architects, CAD drawings and concepts to increase the building efficiency classes.
Learn what must be taken into account when planning window drives.
Wide-ranging expertise from a single source
GEZE supports installation companies with cable plans or statements of approval to ensure quick and simple project implementation. One particular highlight is our Win Calc 2.0. configuration software. The GEZE configuration tool for window technology takes care of the complex calculations when designing a window system: it is time-saving, easy-to-use and convenient. It enables calculations for manual and electrically operated ventilation and smoke and heat extraction windows, as well as for natural smoke and heat exhaust ventilation devices. The program performs all the calculations and displays all the applicable drive solutions.
Comprehensive service from the outset
GEZE offers comprehensive services for the installation and maintenance of systems. Of course, we also keep the corresponding installation instructions available.
GEZE window technology for all your needs