Topics
Automatic night-time back cooling – energy-efficient building ventilation
Intensive ventilation through windows during the night is a cost-saving and energy-efficient method of cooling buildings in summer. The right window technology is crucial for automatically controlled night cooling.
Reduced performance due to heat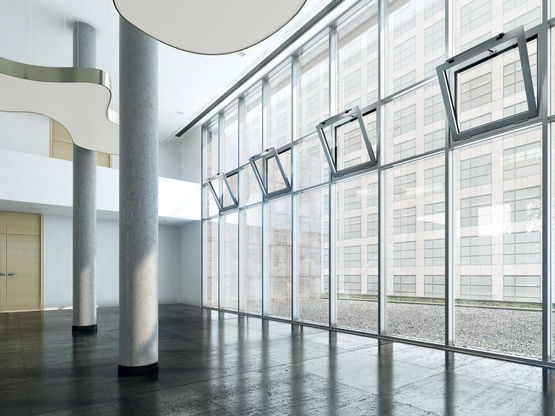 Rooms heat up quickly in summer – especially with large window fronts. © Exorbitart / GEZE GmbH
Offices, schools and public buildings often become unbearably warm in summer. People, equipment and lighting are constantly emitting heat. In addition, warm solar rays enter rooms via large glass windows. People begin to lose concentration and their performance deteriorates. The building must be cooled so that people who are in the room feel comfortable and remain mentally fit, despite high outside temperatures.
However, air conditioning systems significantly increase the level of investment, maintenance costs and energy consumption of a building. Office and administration buildings often need more energy to cool rooms in spring and summer than to heat them in autumn and winter. Mechanical ventilation systems are also energy-intensive and, due to their continuous operation, are true 'power guzzlers'.
Night-time ventilation saves energy
By comparison, controlled natural ventilation saves a considerable amount of energy. It uses the natural pressure differences between at least two openings (e.g. windows, doors) of a building to the outside for air exchange. Such a pressure gradient already exists in weak winds. Power-driven fans are therefore unnecessary.
For night-time back cooling, automatically controlled windows direct the heat generated by solar radiation and internal sources to the outside during the night and cool, fresh air to the inside. The supplied fresh air ensures a pleasant indoor climate through pleasant temperature and good air quality.
Cool night air as a natural cold source
The cool night air acts as a natural source of cold - and this makes night-time back cooling not only sustainable and energy-efficient, but also natural and environmentally friendly.
In new buildings, this building air conditioning is increasingly combined with thermal core activation. Pipes are laid in building masses, e.g. concrete ceilings. Water flows through these pipes as a heating or cooling medium. Ideally, this would eliminate the need for very energy-intensive air conditioning systems.
Convenient automation through central control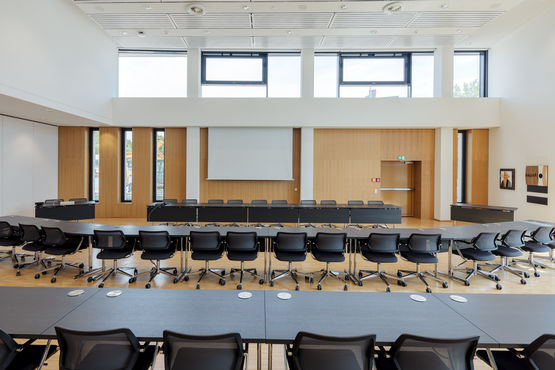 Automatic night-time back cooling: useful for public buildings © Jürgen Pollak / GEZE GmbH
Automatic night-time back cooling is particularly suitable for public buildings, office buildings, sports facilities or schools. In these large buildings, energy-efficient ventilation, a healthy indoor climate and the monitoring of window conditions are central requirements.
Modern window technology ensures optimum night-time back cooling. It ensures that entire window fronts or window groups are automatically controlled when no one is present. A central control unit ensures ventilation scenarios such as ventilation periods can be defined and easily changed.
Night-time back cooling in modern building concepts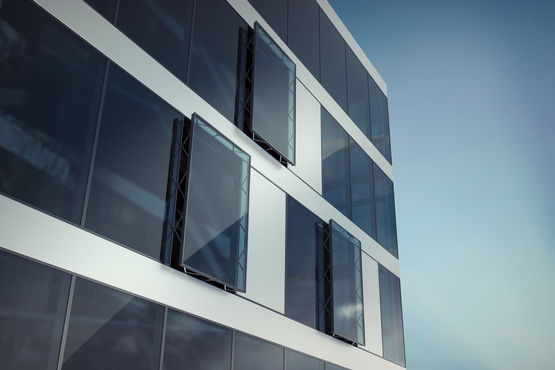 Modern parallel-opening vent windows support night-time back cooling.
Even with modern glass façades with so-called parallel-opening vent windows, automatic night-time back cooling is possible. Here, the window leaves open in parallel to the outside as a whole which means that the appearance of the glass façade is not impaired – for example by reflections from tilted windows.
At the same time, the parallel opening of the window ensures optimum air exchange. Cool air can flow in from below at the same time as warm, stale air escapes upwards. Compared to tilted windows, parallel-opening vent windows achieve a much higher air exchange rate with the same opening width.
'Smart Buildings' through networking
The automatic window control for night ventilation can be networked with the building control, which controls e.g. blinds, awnings and shutters as well as heating, air conditioning, lighting and alarm systems. If the building technology automated in this way reacts automatically to climatic influences and changes, it turns buildings into 'Smart Buildings'.
Intelligent control and window drives from GEZE
The automatic window controls from GEZE enable natural night-time back cooling - regardless of whether they have to open small light or large heavy façade windows, roof windows or skylight domes. This is because the window drives can be controlled precisely and allow a variably adjustable opening width for each window. This enables individual ventilation concepts according to customer needs.
Sensors ensure complete safety: presence detectors monitor the closing edges and prevent injuries due to automatic opening and closing. Wind and rain sensors give signals to close the windows and protect the building stock from damage.
Via the IQ box KNX interface module, the window drives from GEZE's IQ windowdrive series can be connected to the KNX building bus. This means that all automated windows can be monitored and operated centrally.
Requirements for automatic window-based night-time back cooling
A moderate climate: the outside temperatures at night must be well below the temperatures in the building for a sufficient period of time.
Good outdoor air quality: Few odours, pollutants, fine dust
Protection against burglary: windows can be controlled separately in accessible areas such as the ground floor; protection by means of window guards or by special construction (parallel-opening vent windows)
In heavy rain or wind: structural weather protection or automatic closing of opened windows
Comprehensive support
GEZE supports planning and invitation for tenders by means of
project consultancy
tender texts for architects
CAD drawings
ideas for improving building efficiency
information on the use of modern façade structures
Fast and straightforward project implementation
GEZE supports installation companies and installers with a fast and uncomplicated project handling with
the configuration software WinCalc 2.0 for installation companies (calculation program for window technology)
advice on façade protection for a sustainably beautiful façade
installation instructions for window drives