E 212 24 V
Service case IQ windowdrive
*
For commissioning and parameter setting of the window drives from the IQ windowdrive range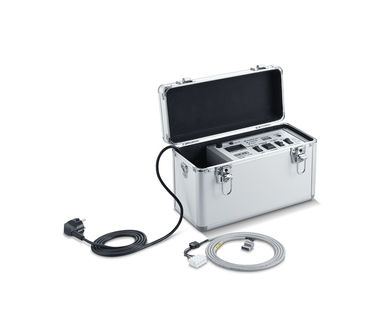 Compact stand-alone solution in a handy case
Integrated rechargeable batteries for simple commissioning of the drives without on-site current connection
230 V connection for charging and permanent operation
Alarm and ventilation mode for early "approval" of automated windows on site
Connection possibility for service terminal ST 220 for simple parameter setting for the drives of the IQ windowdrive series
Max. output current of 5.5 A makes the commissioning of synchro sets with several drives possible
Contact us
For commissioning and parameter setting of the window drives from the IQ windowdrive range
Application Areas
Quick and easy commissioning and parameter settings of IQ windowdrive window drives with LIN-BUS
For commissioning of GEZE 24 V drives and for parameter setting of the IQ windowdrive drives via ST 220
Installation situations in reference objects and videos
GEZE service case for IQ windowdrive series of GEZE product video
The service case provides everything for the on-site commissioning and testing of window drives from the IQ windowdrive series from GEZE, even without any power connection.
GEZE IQ windowdrives installation video synchronous operation, Powerchain drives
The service case is used to quickly and easily put window drives from the IQ windowdrives series into service and test them without the need for an electrical connection.
*

Notice about the products displayed

The products mentioned above may vary in form, type, characteristics and function (design, dimensions, availability, approvals, standards etc.) depending on the country. For questions please contact your GEZE contact person or send us an E-Mail .